The City of Overland Park last year stuck taxpayers with a 10% property tax hike and now we know that that led to some nice pay increases for city management staff.
Deputy City Manager Kristy Stallings got more than a $20,000 increase to more than $232,000.  The second-highest paid employee, Law Director Tammy Owens, got more than an 8% pay increase to more than $204,000.
Finance Director Gena McDonald's pay jumped 25% to more than $160,000 the city's new Chief Human Resources Officer, Thomas Bledsoe, is being paid 23% more than his predecessor at $155,000.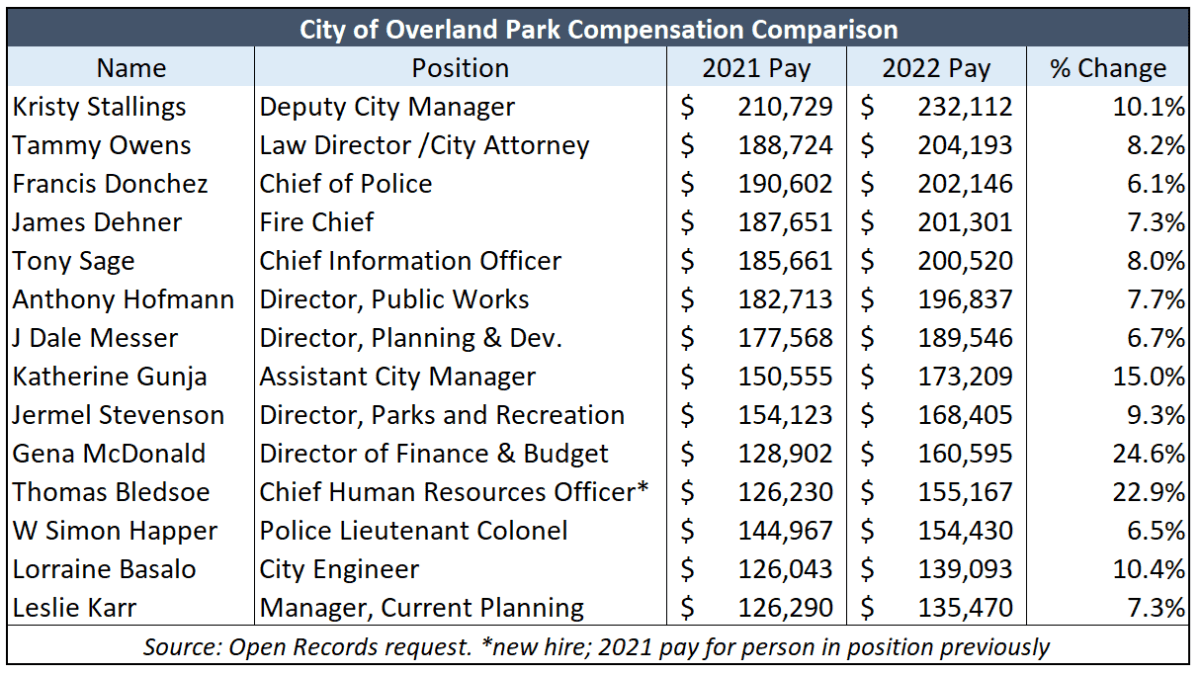 Overall, the city's payroll jumped 11%, which includes hiring more employees.
Overland Park taxpayers have not been as lucky as city employees.
City Council members increased property tax by 411% since 1997, which is more than three times as much as the combined increase in inflation (74%) and population (48%).  Part of the property tax increase comes from a 57% hike in the mill rate.
In order to approve this year's budget increase, Overland Park had to abide by the revenue-neutral "Truth in Taxation" law passed in bipartisan fashion in 2021. The law requires increased property valuations to be offset by reductions in mill levies, so the same amount of revenue is delivered to local governments. If more spending is proposed, a public meeting is required, and officials must vote on the entire tax increase to be imposed. No exceptions are allowed.
Taxpayers, many of them elderly on fixed incomes, begged Mayor Skoog and City Council Members not to increase the property tax at last year's revenue-neutral hearing.  But the majority had their minds made up ahead of time, and imposed a 10% hike.
Councilman Faris Farassati, one of three votes on the 13-member City Council to oppose both exceeding the Revenue Neutral Rate as stipulated in the Truth in Taxation law, and the budget as a whole, says the fiscal policy in Overland Park is a disservice to taxpayers:
"The results of the last 15 years of giving away hundreds of millions of dollars of OP residents' hard earned tax dollars to developers is now coming to fruition! OP is facing a close to 400 millions dollars in public works (chip seal and storm water) debt and needs to constantly ask for more tax revenue from its residents. Essentially nothing major can be done without putting more pressure on constituents' pockets; rejecting property tax breaks authorized by the state, adding toll lane on highway 69 and now increasing sales tax are all the outcomes of misguided fiscal policies by the "status quo" in OP government, including the previous and current mayor and their allies."
Editor's Note: "budget process" was changed to "fiscal policy" to more correctly represent the view of Councilman Farassati.