You wouldn't know it from mainstream media, but the latest jobs report from the Bureau of Labor Statistics shows Kansas lost 2,000 private-sector jobs in May, after losing 1,400 in April.  The media shouts negative economic information from the rooftops when a Republican is governor but regularly ignores bad news occurring under Democrat Laura Kelly.
Nebraska also lost private-sector jobs in May but the other states in the region – Missouri, Oklahoma, Arkansas, Colorado, and Texas – had job gains.
Every regional state remains below private employment levels reported two years ago in May 2019.  Oklahoma has the worst performance, down 4.9%, and Kansas has the 2nd-worst performance with a decline of 3.6%.  Missouri is down 3.1%, Colorado is 2.6% lower than two years ago, and Texas has a 1.9% decline.  Nebraska and Arkansas have the smallest declines in the region, down 1.8% and 0.7%, respectively.
Nebraska and Arkansas are two of the seven states that were not locked down by their governors during the COVID pandemic.  Collectively, the states not locked down are doing considerably better than the rest of the county, with a decline of just 1.4%, versus a 4.9% average drop for the states that were locked down.
Job recovery may extend into 2023
Private-sector employment in May 2021 was 46,900 less than in January 2020, and recovery has slowed since the beginning of 2021.
At the current pace, Kansas won't return to pre-COVID job levels until sometime in 2023.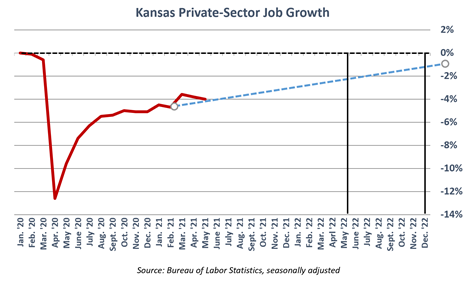 Last Fall, the trend put recovery in July of this year.
Employers attribute some of the slow job growth to the extra $300 per week in unemployment benefits, saying that some workers make more on unemployment than if they returned to work.  That extra benefit ends this week in 25 states.
The Kansas Legislature passed a nonbinding resolution calling on Governor Kelly to end the extra payments.  SCR 1616 passed the Senate 27-11 and it passed the House 79-38, but at this writing, Kelly shows no signs of backing off.