President Joe Biden may not believe that the extra $300 per week in federal unemployment benefits is keeping people from going back to work, but employers in Kansas beg to differ.
The April 2021 jobs report was released on May 7 and — far from the 1 million jobs that had been expected — the economy added only 266,000 new jobs and unemployment actually rose from 6 percent to 6.1 percent.
President Joe Biden was asked if the generous federal unemployment benefits — which in many cases exceed what people were making while employed — had any impact. 
His response was a flat "No, nothing measurable."
The facts, however, show the federal unemployment benefits have a major impact, according to Joe Horvath, a senior fellow at the Foundation for Government Accountability.
Horvath says someone on unemployment in Kansas can receive $3,730 per month ($44,756 annualized) in cash or cash-equivalent benefits by remaining unemployed — equal to earning $21.52 per hour working full-time.
This includes $1,044 per month from regular state UI benefits, $1,300 per month from the UI bonus, $353 per month from food stamps, $600 per month from the child tax credit, $433 per month from EITC (2020 EITC received in 2021, divided over 12 months).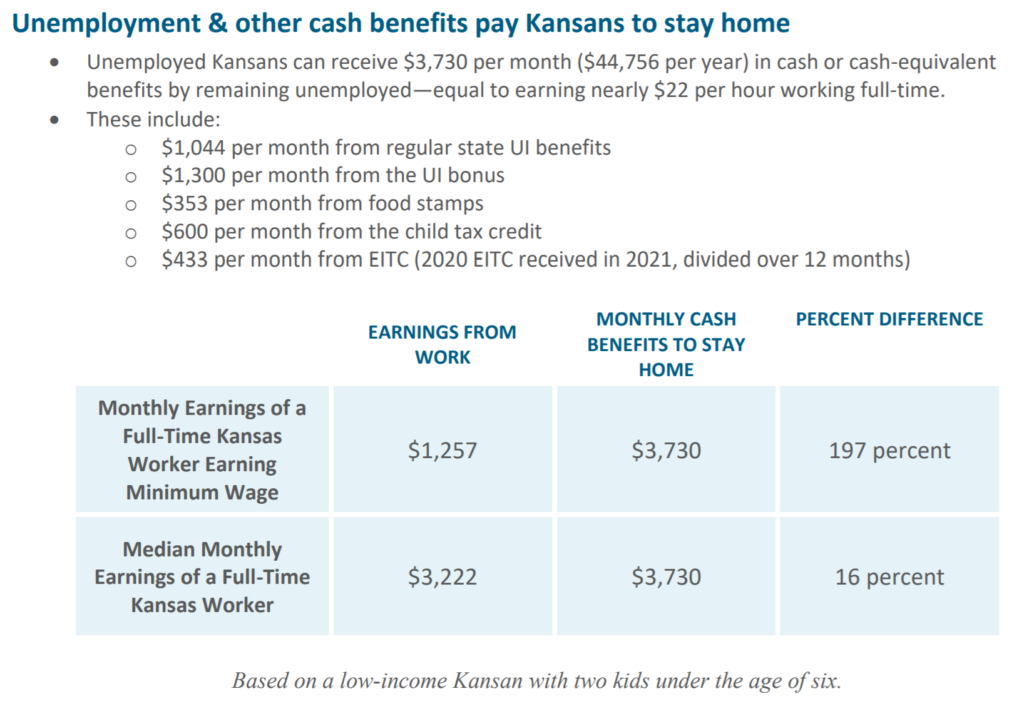 The figures are based on a low-income Kansan with two children under the age of six. 
A full-time worker, earning the minimum wage in Kansas — a small minority of workers — could expect to earn $1,257 a month. The $3,730 in full benefits would be a 197% increase. Even a family earning the median $3,222 ($38,664 per year) wage would be a 16% increase — hardly incentives to take a job.
This is reflected in the number of jobs available as well. According to FGA, Kansas has as many as 80,000 open jobs that companies are struggling to fill.
Moreover, 73 percent of small businesses nationally say they are having trouble hiring workers, with 59% indicating it has been very difficult to find workers. 
"Basically you can get paid 16% more to not work than to work," Horvath said in a phone interview. "Well, human beings are capable of responding to incentives and that's what they do most of the time. 
That's why the normal structure of unemployment benefits, traditionally, from the program's creation in the 1930s, were that unemployment benefits are temporary, and they're limited, just a phase to get people from one job to the next."
And while technically someone on unemployment is required to actively look for employment — problematic during the lockdowns — and to take any job offered to them, there are some very large holes in those requirements.
The New York Post reports that White House Press Secretary Jen Psaki said the unemployed were only allowed to refuse work and receive benefits if "sick with COVID, taking care of someone sick with COVID or offered a job in an unsafe workplace."
Additionally, a University of Chicago study found that 42% of people claiming unemployment insurance earn more than they did at their prior jobs — and not taking into account health insurance aid for the unemployed.
"There's no wonder that so many businesses are having trouble getting people to come back to work, whether that's being unable to hire positions that they had open or simply are having trouble getting people recalled back to their old jobs," Horvath said. "We have cases in businesses all over the country, where some of the workers who aren't savvy enough to understand that this is fraud, were actually literally admitting to their employers, 'Well I'd like to stay on unemployment because you know I get paid better that way.'"
21 states ending enhanced unemployment
Fox Business reports that 21 states have now announced plans to end the extra federal unemployment benefits. As of May 17, those states have are Alabama, Arkansas, Arizona, Alaska, Georgia, Idaho, Indiana, Iowa, Mississippi, Missouri, Montana, North Dakota, Ohio, Oklahoma, South Carolina, South Dakota, Tennessee, Texas, Utah, West Virginia and Wyoming — all led by Republican governors. Montana was the first state to announce its withdrawal, on May 4.
In Kansas, Democrat Governor Laura Kelly has said she will not end those benefits and instead focus on "recruiting new businesses and jobs" in the state, according to a story on KMBC News.
However, with more than 80,000 jobs still available, it's unclear who would take additional employment opportunities.
Kansas employers react
The Kansas Chamber of Commerce is concerned as well and notes that while the extended benefits are not the only issue, they are an issue.
"The Kansas Chamber has heard from a variety of businesses from across the state who are struggling to fill open positions," President and CEO Alan Cobb said in an email statement "There are tens of thousands of open jobs in Kansas and approximately 58,000 Kansans receiving unemployment benefits. While not the only reason, continuation of the federal pandemic unemployment programs is a major issue as they provide a disincentive to find a job.
"Other states are ending the programs. We have reached out to the Governor to ensure her administration understands the challenges Kansas businesses are having filling open positions and have asked her to end the federal pandemic unemployment programs in Kansas."
Indeed the sentiment was echoed by the head of the Kansas Restaurant and Hospitality Association, Adam Mills.
In a telephone interview, Mills noted that businesses in his industry have been under duress for most of the pandemic.
"Certainly the bonus payments became a thing everyone got used to," he said. "It's simply created a situation where people can make more money not working than working hard to blame anyone for not continuing to do that."
On Monday, pressure was brought to bear against Kelly by the entire Kansas Republican U.S. House and Senate delegation. 
KSN reports U.S. Senators Jerry Moran (R-Kan.) and Roger Marshall, M.D. (R-Kan.) and U.S. Representatives Ron Estes (KS-04), Jake LaTurner (KS-02), and Tracey Mann (KS-01) sent a letter to Kansas Governor Laura Kelly calling on her to halt the increased federal unemployment benefits.
"We have made great strides to develop safe and effective vaccines, allowing people to return to work or school without fear while putting our country on the right track to achieve herd immunity," the letter read, in part, "We must end the federal incentive to stay home so that we can truly reopen the economy, provide Kansans with meaningful and purposeful work, and get our country back to normal."