Practitioners of the ancient art of eyebrow threading may no longer have to spend thousands of dollars to get what amounts to a government permission slip to work in Kansas.
Senate Bill 348, which exempts threading from the Board of Cosmetology licensing requirements, was recommended for passage by the Public Health and Welfare Committee last week and now awaits action for a full vote of the Senate. 
Threading is a centuries-old practice, common in many parts of Asia, in which a thread no thicker than dental floss is used to "lasso" unwanted hair — usually on the eyebrows — and remove it.  The skill isn't a part of Kansas cosmetology school curriculum, but the state requires threaders to be licensed — and complete 1,000 hours of training for other skills they do not want and will not use.
Senate Bill 348 would remove those requirements so long as the threader doesn't provide any other services, and only uses traditional tools.
The bill is in response to a 2020 lawsuit filed by the Kansas Justice Institute — which, like the Sentinel, is owned by Kansas Policy Institute —  on behalf of Jyotsna Biscuitwala, her son Jignesh Biscuitwala, and her daughter-in-law Jigisha Mondi.
Jignesh and Jigisha own and operate Miracle Eyebrows salons in Olathe and Shawnee. Under Kansas law, it is a crime to practice unlicensed eyebrow threading or to hire an unlicensed threader. The requirements make it difficult for the pair to find estheticians to work in their salons. 
Licensed estheticians complete at least 1,000 hours of instruction. However, less than 1 percent of the training is devoted to threading, if it's taught at all. The skill isn't a part of the cosmetology school curriculum. Things like sanitation and skin treatments make up much of the training.
"Eyebrow threading is very safe," Jigisha said. "It does not require any chemicals or sharp tools, just a simple piece of cotton thread. It is a very safe technique. And it is very sad for our business and our family that I cannot hire an experienced family member to help." 
Not the first time a legislative remedy has been tried
In 2019, Elizabeth Patton, state director of Americans for Prosperity-Kansas advocated for similar legislation that would have exempted threaders from esthetician licensing requirements. The proposal never received a hearing in the Kansas Legislature.
"Eyebrow threading isn't invasive. They're not using chemicals. They're not using sharp tools or things of that nature," Patton said at the time. "There are businesses in Kansas that want to provide this service and there's a market for it. There are people who want to do it and know how to do it, but businesses can't hire people without a cosmetology license to do it."
This time, at least, the bill is getting a hearing, although there is — perhaps predictably — some opposition, including cosmetology school owners who want the state to keep sending them students.
Board of Cosmetology opposes exempting non-invasive procedure
According to the Sunflower State Journal, opponents of the bill, including the Cosmetology Board, said exempting the practice from regulation would put the public at risk of receiving services without proper training and oversight.
"I think what we are concerned about is making sure that everyone knows how to protect the public, knows how to protect people from staph infections, from herpes, from infectious diseases," said Nichole Hines, vice-chair of the Kansas Board of Cosmetology.
"It's not about keeping anyone out of cosmetology as a whole. We would like to see as many people as possible come into the profession," Hines said.
"But we also need to make sure that we are at all times protecting the public — health and safety coming first at all times," she said.
The Sunflower State Journal reports Len Melvin, owner of Hays Academy of Hair Design with campuses located in Hays and Salina was in agreement with the state board.
"It is important to ask 'why is this particular service being exempted?'" Melvin said in written testimony. "Is it because individuals do not want to go through the trouble of taking the proper steps to be properly trained and licensed? Why?
"If we are serious about properly regulating beauty services to protect those receiving services, I ask this committee to not exempt this service."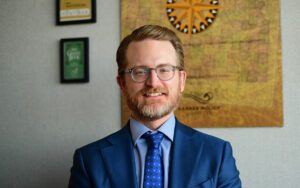 Kansas Justice Institute Litigation Director Sam MacRoberts said the safety of the procedure and consumers is not really at issue.
"Kansas shouldn't require 1,000 hours of expensive schooling to be able to use a piece of cotton thread to safely groom eyebrows," MacRoberts said. "Threading is already safe. This exemption makes sense, treats threaders like braiders, and is a legislative solution to a terribly unjust and unnecessary occupational licensing regime."