Jyotsna Biscuitwala is fighting for a slice of the American Dream. Along with her son and daughter-in-law, the Olathe woman is suing so she can work in her chosen field, eyebrow threading, without a Kansas cosmetology license.
Before immigrating to the U.S. in 2004, Biscuitwala ran a threading salon in Surat, India, where she hired and trained hundreds of employees in the art of threading. Threading is an ancient grooming technique that dates back thousands of years to parts of South Asia and the Middle East. Eyebrow threaders use only a simple cotton thread to form loops to gently removes unwanted facial hair to shape eyebrows.
On Monday, the Kansas Justice Institute filed in Shawnee County court a lawsuit on behalf of Biscuitwala, her son Jignesh Biscuitwala, and her daughter-in-law Jigisha Mondi.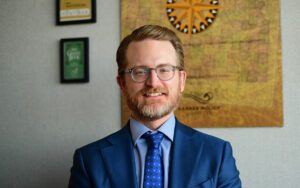 "The American Dream should not be crushed by unreasonable rules and regulations like these," said Sam MacRoberts, the litigation director for KJI. "What is happening is unfair and unreasonable, and that is why Kansas Justice Institute is helping Jigisha, Jignesh, and Jyotsna fight back."
Jignesh and Jigisha own and operate Miracle Eyebrows salons in Olathe and Shawnee. Under Kansas law, it is a crime to practice unlicensed eyebrow threading or to hire an unlicensed threader. The requirements make it difficult for the pair to find estheticians to work in their salons. 
Licensed estheticians complete at least 1,000 hours of instruction. However, less than 1 percent of the training is devoted to threading, if it's taught at all. The skill isn't a part of the cosmetology school curriculum. Things like sanitation and skin treatments make up much of the training.
"Eyebrow threading is very safe. It does not require any chemicals or sharp tools, just a simple piece of cotton thread. It is a very safe technique. And it is very sad for our business and our family that I cannot hire an experienced family member to help," Jigisha said.
Legislative remedy
The court case seeks a legal remedy. The case argues that Kansas law infringes on the right of Jignesh, Jigisha, and Jyotsna to "earn honest livings free from unreasonable government restrictions under the Kansas Constitution."
Elizabeth Patton, state director of Americans for Prosperity-Kansas, says there's a legislative remedy as well. In 2019, she advocated for a proposed law that would have exempted threaders from esthetician licensing requirements. The proposal never received a hearing in the Kansas Legislature.
"It was a very straightforward bill, and it mimicked the exemption we have for hair braiders in Kansas," she said. Hair braiders can offer their services for a fee without a cosmetology license.
"This affects business owners in Kansas and livelihoods," she said. "It should be a simple fix."
To earn the 1,000 hours required for a license, Jyotsna would need 40 hours of class time per week for 25 weeks. 
"The Kansas Constitution forbids outrageous occupational licensing regimes like this one and protects the right to earn an honest living," MacRoberts said. "Kansans have the right to be free from reasonable and oppressive laws."
Kansas Justice Institute is a pro-bono, public-interest litigation arm of the Kansas Policy Institute, which also owns the Sentinel.