You wouldn't know it by listening to school boards and teacher unions, but kids and young adults who test positive for COVID have very low hospitalization rates and thankfully, almost no deaths.  The data come from departments of health for the state and several counties and is posted in Kansas Policy Institute's COVID Information Center.  KPI owns the Sentinel.
Across Kansas, kids aged 0-17 account for almost 9% of cases but less than 2% of hospitalizations, and there have been no deaths as of September 11.  Adults 18-34 account for 40% of cases but just 10% of the hospitalizations and only 1.8% of deaths.
COVID hits adults over age 65 much harder.  They only account for 10.5% of cases, but 44% of hospitalizations and 79% of all deaths.
Dr. Christine White, a Johnson County pediatrician, says the data indicate school districts should be providing in-person instruction for all students.
"School districts should be able to see this and realize that if you have no high-risk parents or grandparents that reside with you at your home, and if you are a low-risk teacher or admin from an age and comorbidity standpoint, that you feel very safe sending ALL ages of kids to school with ALL low-risk teachers/staff."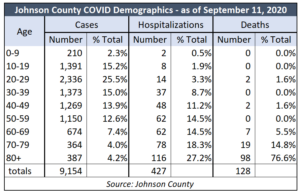 Johnson County tracks age groups a little differently, but the outcome is essentially the same.  Kids aged 0-19 accounted for 17.5% of cases on September 11, but only 2.4% of hospitalizations and there have been no deaths.  Adults aged 20-49 account for 54.4% of cases but just 23.2% of hospitalizations and only 3.2% of deaths.
The experience for Adults 70+ mirrors the state.  They account for only 8.2% of cases but 45.5% of hospitalizations and 91.4% of all deaths.
The patterns are similar in Wyandotte and Sedgwick counties.
Kids aged 0-19 account for 14.5% and 13.7% of cases, respectively, but in Wyandotte County, only 2.5% of hospitalizations and no deaths.  There have been no hospitalizations or deaths among kids 0-19 in Sedgwick County.
Adults 70+ bear the brunt of the impact, with 53.8% of deaths in Wyandotte County and 73.2% in Sedgwick County.
Dr. Christina Brandmeyer, a Johnson County resident who specializes in pharmacoeconomics, says the hyper-focus on raw case counts by school districts and county health departments is misguided.
"What are they correlating the cases to? Increased hospitalization? Increased mortality? Increased inpatient admissions? None of the above. It is just a metric. Cases is not a reason to shut schools down. Younger people are getting COVID, and the good thing is that they are not dying, they are not being hospitalized as much of the data shows. The severity of the disease is less with healthier younger people. COVID hits the elderly hard, and that leads to death and or hospitalizations. We should be focusing on protecting the frail and weak."
White agrees, saying cases is not what matters when most cases are in the age ranges that are relatively unaffected by hospitalization and death.
"Like with any plague in the history of the world, you figure out who is most affected and THOSE people protect themselves and the rest of us do what we (within reason) can do to help them.  That doesn't mean we all stay home for 2 years.  It means we don't visit Grandma.  If she needs something we drop it on her porch.  It means we FaceTime with her daily to keep her from going crazy from loneliness.  But the age groups that have literally 0 to 1.6% mortality rates from this cold virus continue to live their lives."