Data from the Kansas Department of Health and Environment shows the COVID survival rate for all ages in Kansas is 98.7% as of January 4. The survival rate for kids aged 0-17 is 100%; it is 99.8% for adults aged 18-64, 95.1% for adults aged 65-84, and 84.2% for adults aged 85 and older.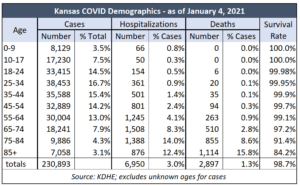 The COVID survival rate had been as high as 98.9% in early November before KDHE 'reconciled' death certificates and added deaths to prior months.  There has been no change in the COVID survival rate since then for kids and adults aged 18-64, and there has been a slight improvement for adults aged 65-84, which was 95%.  The rate only declined for adults aged 85 and over, dropping from 84.6% to 84.2%.
Most counties don't publish demographic details of this nature but there are similar reports for Johnson and Wyandotte counties in the COVID Information Center published by Kansas Policy Institute, which owns the Sentinel.
Average COVID survival rates vary by county
While age-based data isn't available, the U.S. Department of Health and Human Services publishes death and case totals for each county.
No deaths are reported for Elk and Hamilton counties, resulting in 100% survival rates.  Other counties in the top five are Anderson (99.7%), Riley (99.6%), and Butler (99.6%).
The five counties with the lowest COVID survival rates are Gove (94%), Comanche (95.3%), Ness (95.4%), Morton (96%), and Morris (96%).
The COVID Information Center also includes trends of cases and mortality rates, case clusters, employment data, a 50-state comparison of cases and deaths, and other information.