Kansas Governor Laura Kelly's administration is still threatening to close the economy when legally permitted on September 15 even though the COVID hospitalization and death rates are declining.
Between July 6 and August 3, the percentage of COVID cases requiring hospitalization in Kansas fell from 7.31% to 6.17%; even more encouraging, only 4.6% of the new cases during that period required hospitalization.  The mortality rate (deaths divided by reported cases) dropped from 1.66% to 1.26%, and aside from the tragic situation in nursing homes, the mortality rate is down to 0.6%.
Kelly last week said she 'may be forced' to close bars, based on what the Sentinel discovered was incomplete data.  At a recent news conference, KDHE Secretary Dr. Lee Norman said, "The governor and I have talked a lot about it, and we're always looking at what we can do to help people make the best decision without having the more severe closures."
Kelly's initial justification in March for closing non-essential businesses was to prevent hospitals from being overrun.  That never happened, fortunately, but simultaneously canceling elective procedures hurt patients and prompted hospital layoffs.  Then, when cases began increasing in July, that became her new justification for threatening another shutdown.
But today marks the second straight week that new cases declined, with almost 800 fewer cases reported for the week ended August 3 than the week ended July 20.  Over the last six weeks, the average weekly number of COVID deaths held steady but the last two weeks saw an uptick, recording 58 new deaths.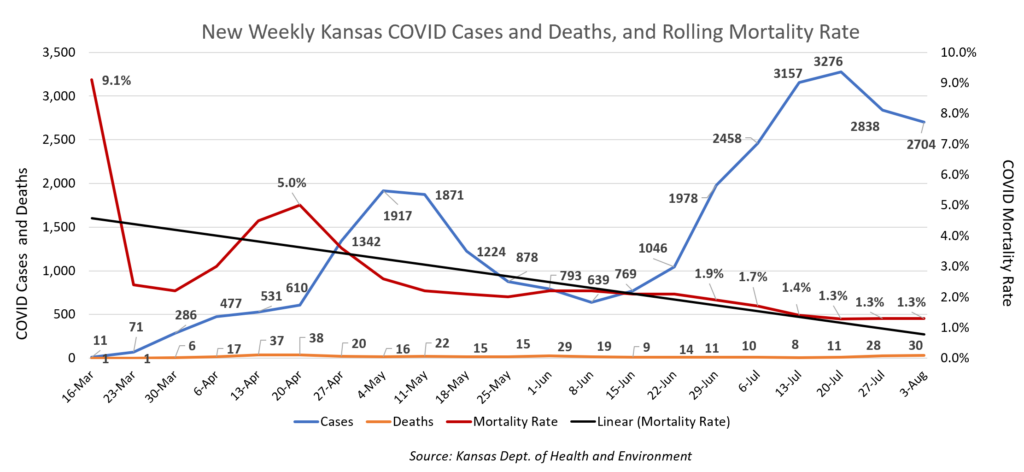 As reported previously by the Sentinel, the Kelly administration is withholding critical information like historical, county-level data on deaths and whether there were underlying causes.  We do know, however, that most of the new deaths are widely spread across the state.
County-level data gleaned from county websites by the New York Times and Wikipedia
shows there were just two new deaths in Johnson County since July 20.  Finney and Ford counties, with large caseloads from meatpacking facilities, had no new deaths.  Seward County, another meatpacking county, had two new deaths, and Leavenworth County had one.
Wyandotte County recorded seven new deaths and there were ten more in Sedgwick County.  Neither county provides much detail on their websites, but both counties have had numerous deaths in nursing home clusters.  There were six new deaths in Shawnee County over the last two weeks, but that's another county that doesn't provide much detail on its website.
The other 97 counties recorded 21 new deaths since July 20.
Moving the goalpost again
With their first two shutdown justifications muted, officials now seem focused on moving the goalpost again, this time to the rate of positive tests.  Last week, Johnson County health officials said they couldn't justify opening schools with a 9% positive rate on COVID tests.  The Kansas City Star has been pushing hard for more shutdowns and today's editorial used the positive test rate as justification for shutdowns in Kansas City.
Media and government conveniently ignore the economic devastation on families and employers, however.  In June, Kansas lost 65,500 private-sector jobs compared to a year ago and a combination of excessive spending and COVID-reduced revenues have already created a $1.5 billion budget deficit next year.  Another tax increase is the last thing Kansans need, but the likelihood increases with another shutdown.
COVID infection rate below 1%
With a total of 28,876 reported cases as of August 3, the official COVID infection rate is 0.9% of the 2019 estimated Kansas population.
Last week, there were no new cases reported in 23 counties, and 45 counties reported five or fewer new cases.