The Kansas State Board of Education intends to put lawmakers on notice that its members wield constitutional authority. Calling themselves a "fourth branch" and "equal partners," board members discussed ways to protect their authority from legislative fiat under the Kansas Constitution.
Members stopped short of threatening the legislature with a lawsuit. However, members did not rule out going to court in the future if lawmakers attempt to usurp the board's authority.
"If they cross the line,… the olive branch turns into a hammer," board member Jim McNeice, a Wichita Republican, said.
A handful of laws the legislature proposed this session threatened the board's autonomy, state board members said during a June 9 meeting. Specifically, members cited a proposal to require a financial literacy course and the passage of a civics test in order to graduate from Kansas public high schools. Lawmakers in both chambers adopted the legislation, but Gov. Laura Kelly, a Topeka Democrat, vetoed the measures. 
Legislature attempts to direct COVID funding to schools
Legislators also adopted a budget with provisions directing the Kansas State Board of Education on how to spend federal COVID relief to schools. 
"I would hope ongoing in the future that instead of just making laws expecting us to do something that we need to be at the table as part of the discussion," state board of education chair Jim Porter said. "But we need to be a partner before the fact instead of after the fact."
According to board members, some of the legislature's budget recommendations to the board run counter to federal guidelines. For instance, the budget recommends the board use federal COVID relief funding for security cameras. However, board members say federal guidelines prohibit using COVID funding for that purpose. 
"I do believe that for many legislators there's a sense that they know better….They think they're in charge," said Jim McNiece, a state board member from Wichita. 
He cautioned the board, however, to tone down its position on constitutional authority.
"So we don't start from an adversarial position. Even though they don't play well, we have to play well," he said.
Kansas one of a few states that elects state education board
Kansas is one of a handful of states that elects a state board of education. Per the state constitution, it includes ten members. The state constitution tasks its members with the "general supervision of public schools, educational institutions, and all the educational interests of the state, except educational functions delegated by law to the state board of regents."
Article 6 of the Kansas Constitution tasks legislators to "provide for intellectual, educational, vocational and scientific improvement by establishing and maintaining public schools, educational institutions and related activities."
Sen. Molly Baumgardner, a Louisburg Republican, said parents and students turn to citizen legislators when they believe their local school boards and the state board aren't listening.
"Kansans turn to their legislators for resolution," she said.
That's how legislation to require a civics test in order to graduate from Kansas high schools landed in lawmakers' laps. Baumgardner said the state board used to require a civics assessment but dropped it.
"Folks were saying no, we need this, and that's why they came to the legislature," she said.
Parents are increasingly concerned about student achievement as they learn it is much lower than the State Board and districts lead them to believe.
The 2019 state assessment shows there are more high school students below grade level (41%) than are on track for college and career (25%) in math.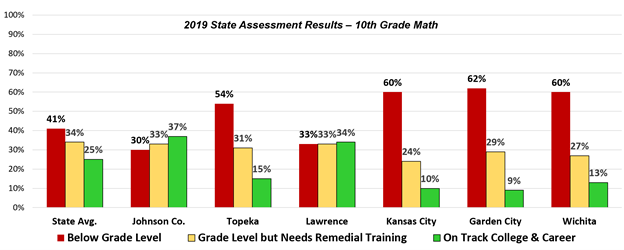 Some districts are much worse than others, but there is low achievement everywhere in Kansas.  Johnson County schools say they are the best in the state, but they don't mention that 30% of their students are below grade level in math and only 37% are on track for college and career.
Lawmakers create dyslexia task force
The board, Baumgardner said, is very selective in what they're willing to be responsible for. For instance, lawmakers passed legislation creating a dyslexia task force. According to Baumgardner, up to 20% of Kansas kids have dyslexia. The state board directed COVID money for literacy initiatives, but the initiatives do not require hiring a dyslexia coordinator. 
"If we are going to earmark funding for that literacy, then let's make sure that we have that coordinator in place to help direct the literacy initiatives," she said. "…Every step forward that has occurred with regard to the issue of dyslexia has been the result of legislative action — not the state board…Parents once again kept coming to the Legislature because they hit roadblocks at the department of education, so it was the Legislature that formed the task force."
Sen. Renee Erickson, a Wichita Republican on the Senate Education Committee, says the state board is not a co-equal branch of Kansas government.
"Do I think there's a unique place for the state board? Yes. But does the legislature ultimately have the authority and responsibility for schools? And the answer is yes," she said.
Curriculum laws could land lawmakers, board in court
Just how equal the state board of education is to the legislature, the executive and the judicial branch is a question that could be put before the courts.
State board chair Jim Porter, a Fredonia Republican, suggested he's willing to ask the question. He told the board he was prepared to defy the Legislature if the civics test graduation requirement became law. Though Kelly vetoed requiring the test for graduation and requiring a financial literacy course for Kansas high school students, lawmakers are likely to revive both issues next session. They'll also likely consider bans on curriculum like critical race theory, which teaches students that our nation was founded on white supremacy and remains a racist nation.
The board asked its legal counsel to draft a report on court decisions related to the state board's authority. Porter will craft a statement of the board's responsibilities to communicate to the legislature.
"I want to make it clear what our responsibilities are, and I want to communicate those with the stakeholders with an equally strong message that we want to be partners, working together instead of against each other."