On April 27, roughly three-quarters of the Kansas Republican Legislative Delegation sent a letter to Gov. Laura Kelly, pressuring her to reopen the economy as quickly as possible after the May 3 expiration of her stay-at-home order.
"Last week, many of us wrote to you requesting a plan from you for how the Kansas economy will reopen and defined metrics for when that will occur, in accordance with necessary public safety guidelines," the letter read. "Since that time, governors across the nation have announced their intention to reopen shortly. President Donald Trump unveiled a comprehensive guide for the country to reopen, and the Kansas Chamber of Commerce has recommended more than 40 different ideas for how this can occur. Rather than imposing tighter restrictions or further extensions, it is time to pursue a course to reopen Kansas."
However, with just four days until her executive order expires, Kelly has yet to provide a plan for how to get the Kansas economy moving again — despite shutting down earlier than most other states — although she promises to do so on April 30, more than a month after her initial order was issued.
The effort was coordinated by House Majority Leader Dan Hawkins (R-Wichita) and Senator Ty Masterson (R-Andover).  Hawkins explained why they sent the letter in a statement to the Sentinel
"For over a month, our economy has been at a standstill. Many small businesses have announced they will not be able to re-open. The 'hard pause' that was placed on the economy has fulfilled its intended purpose of buying time and allowing our state to achieve a better understanding of the virus. We are at the point that reopening our state's economy is no longer optional. Today's letter — signed by a majority of legislators from across the state — is a call to action. Kansans demand that Governor Kelly show responsible, clear leadership in this time of crisis."
The Kansas Department of Labor reports over 111,000 continued unemployment claims as of April 25, while at the same time, there were about 3,000 COVID-19 cases reported by KDHE.
Masterson emphasized the importance of protecting liberty, telling the Sentinel, "It's in these times of emergency and fear that constitutional rights are most important.  We cannot allow this crisis to be used as an excuse to restrict people's rights."
The letter conveys several demands, including allowing Kansas counties with a very low case count — or no cases at all — to reopen immediately, fixing the problems at the Kansas Department of Labor that have made it difficult for Kansans to apply for unemployment, encouraging outdoor activities and allowing businesses to reopen.
Aside from a few 'hot spots,' the 7-day moving average of new COVID-19 cases continues trending down in Kansas.  Those hot spots are mostly around food processing facilities in southwest Kansas – Ford, Finney, and Seward counties – and Lyon County in eastern Kansas.  These four counties have just 4% of the state's population but they have 38% of the state's COVID-19 cases.
The more heavily populated counties of Johnson, Sedgwick, Wyandotte, Shawnee and Leavenworth are trending down.  As we reported earlier today, the trend for the other 96 counties in Kansas is much lower than earlier in April, even though seven more counties reporting at least one case in the last seven days.  Four weeks ago, the 7-day moving average of new cases was 12% of the previous day's total; the average dropped to 4.36% two weeks ago, and it's down to 4.23% today.
Legislators are also demanding the "elective procedure" restrictions to be lifted and that Constitutional rights not be violated.
"As the Opening Up America Again plan is implemented, we can do so in a way that completely protects constitutional rights," the letter read. "We ask that you refrain from and repeal any orders that infringe upon those rights."
Reactions of other Republicans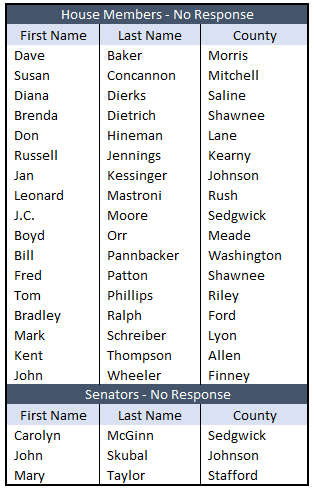 The Sentinel reached out to each of the 18 Representatives and 9 Senate Republicans who did not sign the letter to ask their reasons, and several responded.  Those who didn't respond are listed in the adjacent table.
Senator John Doll, (R-Garden City) said he generally agreed with the letter but did not sign because he had already shared similar views with Kelly. He said he believes the majority of the state is ready to reopen, particularly the nine rural communities he represents.
"These decisions need to be made locally." Doll said. "You can't treat Wichita County the same as the City of Wichita."
Sen. Rick Billinger, (R-Goodland) had similar sentiments, noting he did not sign because he already had a call scheduled with Kelly to discuss the matter and noted many of the 14 northwest Kansas counties he represents have few or no cases at all.
"One-size-fits-all policy doesn't work," he said. "My constituents will practice good safety, but they want to get back to work, and they are very concerned about their constitutional rights being violated."
Senator Randall Hardy, (R-Salina), did not say why he had not signed onto the letter but did express that he wants the state to reopen safely.
"I read the letter and thought that most if not all of the items mentioned in the letter would be addressed in the near future and did not rise to the level of bringing them to the governor's attention."
Rep. Tom Cox, (R-Shawnee), said he did not sign the letter, because he generally does not sign any letter of this sort, but does want the state reopened as quickly as possible.
Senator Ed Berger (R-Hutchinson), had concerns about federal guidelines slowing the recovery in Kansas.
"I planned on signing the letter but was very concerned that the federal guidelines would delay Kansas opening up the economy," he said. "Those guidelines specify that there should be two weeks with flat growth in cases.  With everything happening out west that could move Kansas back to a June 1 opening date.  Statewide 12 percent of tests are positive but only 5 percent in Reno County.  Reno County is developing an aggressive approach to reentry that could be inhibited by the federal plan.  
Sen. Bruce Givens, (R-El Dorado), said he had intended to sign the letter but had not gotten to it in time. He is in favor of reopening the state economy, adding he was particularly opposed to the school closure and thinks the decisions should have been made at a local level.
"I was opposed to the Governor closing schools for the rest of the year ( I still am opposed)," he said. "I wasn't listened to then even though I'm a school administrator when not in Topeka.  I support the decisions like this when made by County Health Departments — it should have been made — county by county."
Senate Majority Leader Jim Denning, (R-Overland Park) did not directly address why he declined to sign the letter but did issue a statement last week stating it was time to  "form" a plan.
"It is time to form a plan with dates and goals for a partial opening in a safe and cautious manner," he said in the statement but stopped short of calling for a full reopening of the Kansas economy. 
No other legislators responded to requests for comment.