Much of rural Kansas has been losing population for many years and now many cities are beginning to lose people. But you wouldn't know it from most media reports.
2018 city population estimates from the U.S. Census Bureau show declines last year in 37 of the 60 cities with population of 5,000 or more. Even more concerning, 2018 marked the third consecutive decline for 27 of those cities.
The state's largest city, Wichita, lost population in 2017 and again in 2018 but so far, the Wichita Eagle hasn't mentioned the Census data published over a week ago. The Topeka Capital-Journal and the Hutchinson News deserve credit for informing their readers but these are the exceptions. The vast majority of newspapers and TV stations have not addressed the population bleed impacting many Kansas cities.
Wichita decreased 0.3% last year. Topeka, Manhattan, Salina and Hutchinson have lost people for three straight years. Among the 25 largest cities, so too have Dodge City, Garden City, Junction City, Hays, Pittsburg, Liberal, Newton and Great Bend. Ted Bolema with the Institute for the Study of Economic Growth at Wichita State University notes that the population decrease can have a wide impact.
"Our population is flat, while nationally the population is growing as people are leaving Wichita," says Bolema.
"That isn't reflected in the unemployment rate because that is a percentage of those who are looking for jobs in the market. But if you leave the job market, whether you dropped out or move somewhere else that doesn't show up in the unemployment rate."
Population loss affects state and local tax revenues, and as the cost of government continues to rise, population loss creates more of a tax burden on remaining residents and employers. Some cities gaining people are doing so at declining and very small rates, including Overland Park, Kansas City, Lawrence and Leawood.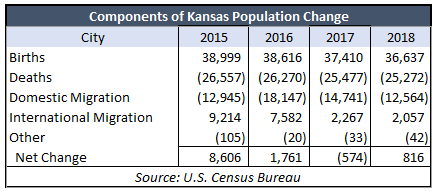 The state added 816 people last year and Kansas lost 574 people in 2017. More people are being born than die each year, but that net gain is largely offset by domestic migration.  There were 36,637 people born in Kansas last year, but a little over 25,000 people died and the state had a net loss of more than 12,000 people from domestic migration (U.S. residents moving in and out of states); Kansas gained about 2,000 residents from international migration.
According to US Census data, the highest destination states of those leaving Kansans are Texas, Missouri, Colorado, and California.