The 2018 population estimates just released by the U.S. Census shows Kansas grew by just 2 percent since the 2010 Census while the country as a whole increased by 6 percent.  But even that small growth rate is a bit deceptive, as only 15 counties in Kansas added people; the remaining 90 counties declined.  Most of the growth is in northeastern Kansas, some in Sedgwick and Butler counties and a few spots in western Kansas.
Pottawatomie County is the fastest growing county in the state. Since the decennial Census in 2010, its population has increased by 2,673 people, or 12.4 percent. Johnson County added far more in sheer numbers, 53,376, or 9.8 percent population growth.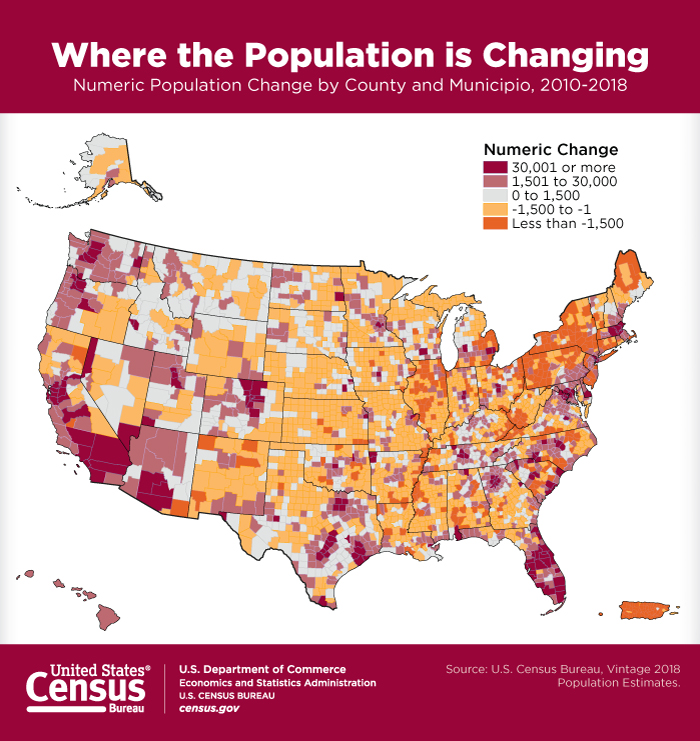 At the other end of the spectrum, Morton County lost 17.5 percent of its population. The southwest Kansas county lost 566 residents, the Census estimates. Elk County in south central Kansas lost 13 percent of its population, a loss of 374 people.
Here are the top 5 fastest growing Kansas counties by percent:
Pottawattomie County, 12.4 percent

Johnson County, 9.8 percent

Douglas County, 9.6 percent

Leavenworth County, 6.7 percent

Wyandotte County, 5 percent
Here are the fastest shrinking Kansas counties by percent:
Morton County, -17.5 percent

Elk County, -13 percent

Stanton County, -11.1 percent

Lane County, -10.9 percent

Osborne County, -9.9 percent