Two-thirds, or 67 percent, of American public school eighth graders aren't proficient in math, according to the 2017 National Assessment of Educational Progress, or NAEP,  test results. Eighth graders tested slightly better in reading, with only 65 percent scoring below proficiency.
Kansas eighth graders beat the national averages in reading and math, but that's not saying much when barely a third of students are proficient. Of Kansas eighth graders, 35 percent tested proficient in math, which means 65 percent aren't proficient. That ranks Kansas public school eighth graders 22nd among the states. According to the U.S. Department of Education's National Center for Education Statistics, proficient eighth graders "understand the connections between fractions, percents, decimals and other mathematical topics such as algebra and functions." They should also have a basic understanding of problem solving.
Kansas eighth grade students rank 19th nationwide in reading proficiency with 37 percent of eighth grade students testing at proficient levels.The NCES says eighth graders should be to "provide relevant information and summarize main ideas and themes," in reading. They should also be able to connect parts of a text and analyze it.
"Students performing at this level should also be able to substantiate judgments about content and presentation of content," NCES says. Sixty-three percent of Kansas eighth graders fell short.
Performance for low income students dipped in math, though low income students' scores improved in reading, the 2017 NAEP tests showed. Only 21.5 percent of low income Kansas eighth graders tested proficient in reading. That's down from 21.7 percent in 2015. In math, low income Kansas eighth graders improved–19.1 percent of low income eighth graders tested proficient in math in 2017, compared with 18.8 percent in 2015.
As the Kansas Policy Institute's Dave Trabert points out, the long term testing scores demonstrate that large spending increases don't produce better achievement, as the chart below shows.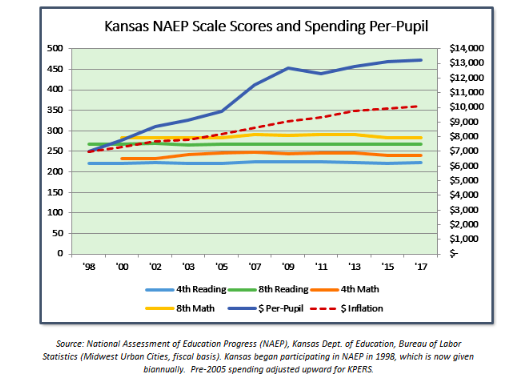 "Simply spending more money doesn't improve outcomes but some reform-minded states are showing long term gains," Trabert writes in a blog post.