The Kansas Association of School Board's advocacy director Mark Tallman is laying the groundwork for seeking more school funding from the state legislature, despite an injection of $1 billion in new K-12 spending over the last three years.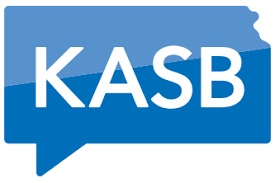 In a blog post, he argues the new funding "will only replace purchasing power lost to inflation since 2009," that K-12 funding per pupil has fallen behind the national average, and that K-12 spending comprises a lower share of individual personal income than it has for the last three decades.
Kansas Policy Institute president Dave Trabert disputes the inflation claim and several others in a post entitled "KASB misleads again in pursuit of more school funding."
Trabert says, "School districts spent $5,416 per-student in 1992, including KPERS pension funding that wasn't included in the reported amounts until 2005.  That amount would have grown to $9,370 in 2018 if increased for inflation, but actual spending was $13,620."
Funding totaled $6.49 billion in 2018 according to the Kansas Department of Education, and Tallman says "…KASB estimates that total funding will rise to $7.44 billion in 2021," 
The Kansas Supreme Court's recently ruled that schools are adequately funded after lawmakers added an inflation increase this year on top of $1 billion added in prior years.
Rep. Kristey Williams, an Augusta Republican who chairs the Kansas House K-12 Education Budget Committee, says from her perspective, there's not much of an appetite for increasing school funding next year.
"Right now, we're not finding that the additional money is providing better outcomes," Williams said. "Until we see some better outcomes, I'm not sure that's where the problem lies."
Kansas spends slightly less than the national average per-pupil according to U.S. Census Bureau figures from 2017; the national average per-pupil spending was $14,275, while Kansas spending per pupil was $13,196 based on headcount enrollment. Tallman admits that the recent influx of funding may close that gap, but since the cost of living is a great deal less in Kansas, Trabert says spending should be below the national average. 
According to the Council for Community & Economic Research, Kansas had the 8th lowest cost of living in the nation in the first quarter of 2019. 
Sen. Molly Baumgardner, a Louisburg Republican and chair of the Senate K-12 Education Budget Committee, said the Census figures Tallman uses also don't account for funding and services from other state agencies that will be directed to schools. For example, the state budget includes funding for Kansas Department of Family and Services funding that is funneled to schools for pre-K programs.
There's no appetite for increasing school funding in the legislature now that the Court has said the current school financing formula is adequate, according to House Majority Leader Dan Hawkins.
"As I travel across the state, people tell me the Court has overstepped and that our funding is now way out of whack, and that the rest of government–the core functions of government–are suffering because of K-12," Hawkins said.
Like Williams, Baumgardner said the legislature now should focus on making sure the fresh money schools receive is used to improve student outcomes.
"Accountability is going to be the next step the Legislature takes," she said.
Last year, Kansas K-12 schools gained about 500 new students but hired triple that amount in full-time employees, according to Baumgardner.  Instead of the association of school boards focusing on the bottom line, Baumgardner encourages them to consider what's happening in the classroom, and specifically the 25 percent of students who are underachieving.
"Now it's time for the educators to focus on what they're best at, which is educating our kids," Baumgardner said.
The KASB report implies funding should be higher because it's a smaller share of personal income than in prior years, but Trabert says funding has grown a little faster than the elements of personal income available to pay taxes.  
Trabert says, "If local school boards and administrators really believe school funding should be a percentage of personal income, they would have asked for a funding cut between 2001 and 2011 when school spending was growing much faster than income to pay taxes.  Instead, they sued you for more money."