Bars and restaurants in Johnson County must close by midnight beginning Monday. That's part of the decision of a divided board of commissioners that ignored pleas from dozens of residents and approved tighter COVID restrictions.
After nearly six hours on Friday afternoon, commissioners approved a public health order that will cap public gatherings at no more than 50 people or 50 percent capacity and require businesses to enforce face masks and social distancing. Churches and schools are exempt from the gathering restrictions.
According to the Johnson County Department of Health and Environment dashboard, 4,227 Johnson Countians were diagnosed with COVID in the last two weeks. For the week ending Nov. 2, Johnson County reported 1,941 new cases. Despite the increase in cases, the mortality rate has been gradually declining and the survival rate is 98.7% overall.  The survival rate for kids is 100% and 99.7% for adults aged 20-69.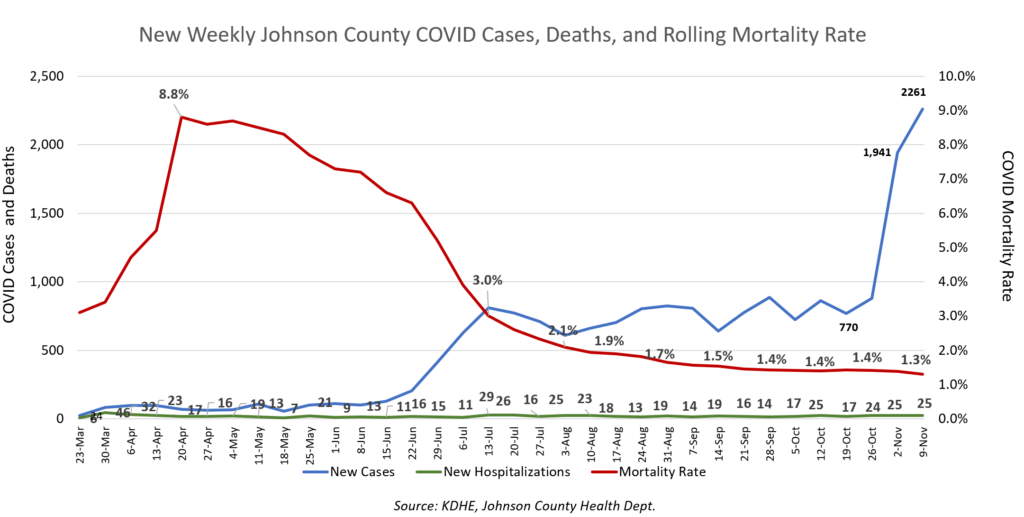 An unknown number of reported cases are probably not contagious, however.  The Kansas state lab and private labs have cycle thresholds set much higher than CDC recommendations, which will identify dead genetic material that is not contagious.  KDHE and local health officials have shown no interest in obtaining the cycle threshold data.
The number of hospitalizations has increased slightly and is averaging 2.5 new hospitalizations per day according to the Johnson County website.
The rapid growth in cases is stressing local hospitals, Dr. Larry Botts, a pulmonologist and chief medical officer at Advent Health, told commissioners.
"Our biggest issue is our staffed beds," he said. "It's not that we don't have enough physical beds. The problem is we cannot staff those beds."
Botts admitted that in previous years, Johnson County healthcare facilities intermittently ran into capacity issues. Health care staff shortages are not new. The U.S. Bureau of Labor warned for years to anticipate more healthcare jobs than workers to fill them as Baby Boomers retired. However, illness and quarantines are driving local shortages right now, Botts told commissioners.
"If we don't find a way to at least decrease the number of cases we have, we will come to a point where we will be overwhelmed," Botts said. 
The original health order, drafted by public health officials, mandated restaurants and bars close by 10 p.m. Commissioners later agreed to close businesses at midnight.
For example, Janez Lomshek owns Talk of the Town restaurants in Overland Park and Leawood. He told commissioners that closing at 10 p.m. would decimate his restaurant's sales by 20-25 percent. Lomshek was one of dozens of county residents and business owners who waited for hours outside of the meeting for a chance to address the elected officials inside.
"This order stops short of closing all but essential businesses. It is not a stay-at-home order. It is not a lockdown," Dr. Joseph Lemaster, the county's public health officer, told commissioners. 
Rebecca Shipley, an Olathe resident, implored the county to stop straining small businesses to contain a virus that cannot be stopped.
"Lemaster is looking at this through one lens," she told the commission. "He cannot see the forest of destruction for the one tree he is focused on. You can cure 100 percent of all cancer by just killing the host. Of course, that isn't a reasonable response, but that's what it feels like out here."
The shutdown in the spring put 33,000 people in Johnson County out of work, Dave Trabert, the CEO of Kansas Policy Institute (which owns the Sentinel), told commissioners.
"More than 18,000 of them remain out of work," he said. "Teen suicide is up. Student achievement, already not good, is declining. Kids who count on schools for meals aren't being fed. Some are stuck at home with their physical abusers."
Commissioner Steve Klika said cases are rising regardless of government mandates and COVID restrictions. Johnson County first mandated face coverings in July, but case numbers have continued to climb, increasing 1,050% through November 11 compared to 423% for counties without mask mandates.  Governor Laura Kelly ordered the closure of non-essential business for more than a month last spring, but cases continued to increase.
"I'm hearing these things just don't work," Klika said. "It's going to continue. It's going to go through the system. Until we have a foolproof vaccination, we're not going to be able to stop this stuff."
He warned that the mandates and COVID restrictions are difficult to enforce.
Commissioner Janee Hanzlick encouraged people to call the district attorney's office when they see someone who isn't complying with the county restrictions.
"I have no interest in supporting or being a part of anything to do with Commissioner Hanzlick's police state snitch line. There is nothing right about that," Commissioner Mike Brown said.
The county commission didn't adopt an enforcement mechanism for the new restrictions, but officials said they anticipate crafting an enforcement policy that would fine businesses and individuals up to $500 for non-compliance. If adopted, officials said the policy would only apply to infractions that occur in unincorporated parts of the county. However, they would ask cities to agree to allow enforcement within their boundaries.
"I know that probably some of you are going to be voting for further restrictions," Trabert said. "I would hope that each of you who will vote for those will explain two questions in public. First, what gives you the moral authority to decide who gets to feed their families and pay their rent? And what's the net gain? How many lives will your action save compared to the number of lives you'll destroy?"
The public health order goes into effect on Monday and expires on January 31. Commissioners will debate enforcement mechanisms of the new COVID restrictions at their next regularly scheduled meeting at 9 a.m. on Nov. 19 at the county administration building in Olathe.