A Sunflower State Journal report about former state senator Barbara Bollier chairing a new political action committee included a wildly inaccurate claim about school funding.  She said her biggest concern about the current Senate is "its movement away from fully funding public education."
We don't know if she is just repeating something she was told without checking or deliberately misrepresenting the truth, but we do know she is wrong.
Rep. Kristy Williams and Senator Renee Ericson recently set the record straight in the Wichita Eagle.  They said SB 175 included "the full funding of our Constitutional obligation as mandated by the recent Gannon Kansas Supreme Court ruling and recommended in the governor's budget."
The other parts of SB 175 are probably what has Bollier and her friends in a tizzy.  Legislators had the audacity to give opportunities for low-income students, those below grade level, and kids suffering from dyslexia to get the education they deserve.  They want to make more kids eligible for the tax credit scholarship program for low-income kids and also provide education savings accounts to dyslexic students and kids below grade level.
Most parents don't know that Kansas has more high school students below grade level than are on track for college and career, but education officials and Bollier know it's true.  I once said at an Overland Park Chamber of Commerce meeting that every year, kids all across Kansas, including Johnson County, are getting high school diplomas while educators know some of them are below grade level.  The superintendents of Shawnee Mission and Olathe were across from me and said not a word in rebuttal.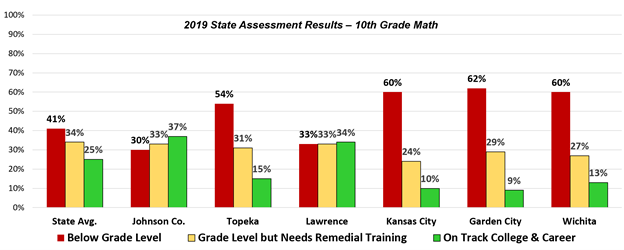 Education officials are loathed to let low-income kids get a chance for a better education because they are big revenue generators for school districts.  Districts get about a 50% base aid premium for At-Risk students and the law doesn't require school boards to spend it on them directly – and they don't.
A 2019 Legislative Post Audit confirmed what Kansas Policy Institute found in 2015.  Most of the more than $400 million allocated to At-Risk students "was used for teachers and programs for all students and did not appear to specifically address at-risk students as required by state law."
Education officials contend that allowing a portion of students' state aid to follow them to other opportunities is 'defunding' schools and an 'attack on public education.'  That's rubbish.  Whether students move out of Kansas or take a piece of their funding to a private school, the effect on the district is the same – districts are paid the full amount per student for each one enrolled.  Initially, districts get funding for kids who utilize ESAs, giving them a glide path to regular funding.
No amount of money has ever caused student achievement to improve, but that doesn't stop education officials and people like Barbara Bollier from demanding a blank check from taxpayers – because, you know, it's all about the kids.
It's really all about power and money, and Bollier and her pals don't let the truth get in the way of their 'progressive' ideology.