Encouraging trends that developed over the last few weeks on hospitalization and mortality continued with the last Kansas COVID data released today by the Kansas Department of Health and Environment (KDHE).
The mortality rate (387 COVID deaths divided by 31,730 total confirmed cases) dropped to a new low of 1.22%.  There were 2,854 new cases reported across the state in the last week, which is a little higher than the week prior but well below the peak of 3,276 cases reported for the week ended July 20.
Almost half of the new cases were in two counties; Sedgwick County reported 701 new cases and there were 661 new cases in Johnson County.
The percentage of cases requiring hospitalization also set a new record low.
Between July 6 and August 10, the percentage of COVID cases requiring hospitalization in Kansas fell from 7.31% to 6.02%; even more encouraging, only 4.6% of the new cases during that period required hospitalization.  The 1.22% mortality rate dropped from 1.66% on July 6; aside from the tragic situation in nursing homes, the mortality rate of confirmed cases is 0.6%.
The Sentinel and our parent company, Kansas Policy Institute, began tracking these trends on July 6.  KDHE rejected our Open Records request for the same historical data since the beginning of the pandemic.
Washington County reported one less case last week and there were no new cases in 19 of the state's 105 counties; another 39 counties reported five or fewer new cases.
Johnson County had a small increase in the number of new cases for the week, following a 3-week decline, but the mortality hit a new low of 1.7% overall.  The county reported just five new hospitalizations last week, although that number may increase because the county often adjusts their numbers retroactively.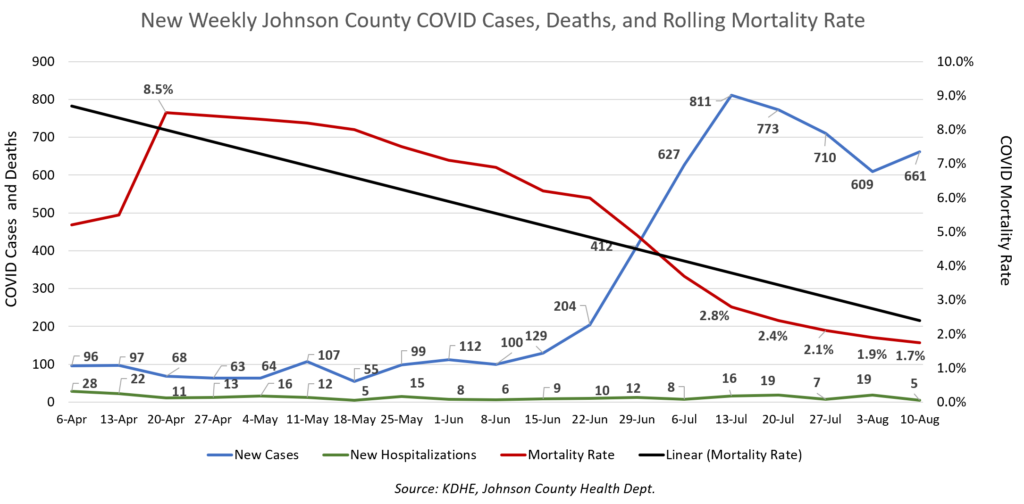 Most counties don't publish data showing changes on a daily or weekly basis like Johnson County, but Wyandotte County is one of the few others that do.  That county recorded its third consecutive drop in new weekly cases, and also set a new low mortality rate.
The mortality rate dropped from 2.04% last week to 1.96% this week; both weeks are rounded to 2% on the chart below.
The Kansas COVID data is updated on Monday, Wednesday, and Friday each week by KDHE.