Kansas Governor Laura Kelly wants to delay opening schools and is hinting at closing the economy this fall over the rise in COVID cases over the last few weeks, but the state refuses to disclose data residents need to examine the seriousness on the new cases and form their own opinion.
The Kansas Department of Health and Environment (KDHE) last week rejected two Open Records requests submitted by the Sentinel's parent company, Kansas Policy Institute.  KDHE refused a request for the number of COVID deaths by county over time, citing privacy concerns.  They said if a county had just one death in a week, records could be cross-checked to possibly identify the individual.
KDHE rejected another Open Records request for historic county-level data on hospitalizations and ICU admissions based on a loophole in the Kansas Open Records Act.
"The records you are requesting are a unique data request and would require KDHE to create records to respond. As KORA does not require a public agency to create a record in order to respond to requests for information, your request will be closed."
KDHE acknowledged that they have the data and "under normal circumstances" would cooperate to produce the requested information but they don't have the staff time to do so now.
A third KORA request from Kansas Policy Institute, asking for the data-sharing agreement between KDHE and the Centers for Disease Control, was fulfilled.  The agreement specifies the data that's to be provided for the 2020 calendar year, for which KDHE will be paid $22,628.
House Majority Leader Dan Hawkins (R-Wichita) says the rejection of open records requests by KDHE and Governor Kelly is a disservice to Kansans.
"Governor Kelly and her administration have expected huge sacrifices from Kansans all across our state in response to the COVID-19 pandemic. Tens-of-thousands of working Kansans — many in counties barely touched by the virus — have lost their jobs or even businesses as a direct result of state restrictions. Those Kansans deserve for the Governor to provide reliable data justifying the sacrifices she continues to demand from them."
Available death data shows a continual decline
While KDHE declines to provide historic county-level data on COVID deaths, the Sentinel and Kansas Policy Institute found cumulative county data online, sourced to Wikipedia and the New York Times.  Their data is sourced gathered from state and county websites each day for all 50 states.
This table compares deaths downloaded on May 27 and July 20 with cases reported
by KDHE on those dates.  The running mortality rates are now dramatically lower in most counties, even though the number of new cases is rising in many counties.
Wyandotte County had the most deaths on May 27, with 72 deaths and 1,315 cases resulting in a 5.5% mortality rate.  Now, the cumulative mortality rate is down to 2.3%, with 89 total deaths out of 3,825 cases.  Over the last eight weeks, there were 17 new deaths reported and 2,510 new cases.
Along with Wyandotte County, the counties of Johnson, Sedgwick, Leavenworth, Finney, Ford, and Seward account for 73% of COVID cases to date and 78% of the deaths.  Over the last eight weeks, those counties collectively reported 68 new deaths and 9,335 new cases.  The rest of the state reported 34 new deaths and 4,662 new cases; the mortality rate during that time fell from 1.9% on May 27 to 1.0% as of July 20.
The full listing of county deaths reported by Wikipedia/New York Times varies slightly (313 deaths) with today's total from KDHE (307 deaths) but both sources report 89 deaths in Wyandotte County, which conveniently provides historic information on COVID deaths.
The chart below shows cases reported by KDHE (on the solid blue line) shot up since the week ended June 22 but the number of deaths has barely changed.  The mortality rate is falling steadily and now stands at 2.3%.
Johnson County also provides historic deaths on its website, along with new hospitalizations each week.
The number of new cases jumped 450% over the six week period ended July 20 (from 90 to 453) but new hospitalizations dropped 5%, going from 10.3 per week to 9.8.  There seems to be a slight lag in reporting hospitalizations; deaths are reported as of July 20 but hospitalizations are through July 19.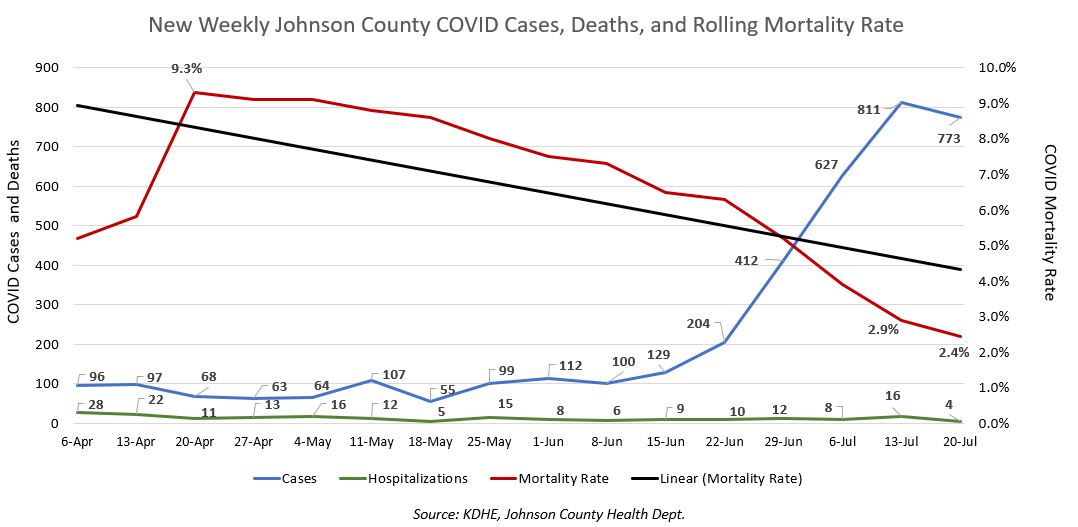 Deaths aren't shown on the Johnson County chart because the line would overlap the green line showing weekly hospitalizations, but there's also a downward trend; deaths averaged 4.2 per week over the last six weeks compared to 5.2 over the previous six weeks.
The cases-up-but-deaths-down trend is also evident for the state as a whole.
The KDHE statewide COVID dashboard shows a total of 23,334 cases and 1,497 hospitalizations as of July 20, for a 6.4% hospitalization rate.  That's down from 7.3% as of July 6, and over the last two weeks, the hospitalization rate was 4.1% of new cases.
There were almost 3,300 new cases reported last week by KDHE but only 11 new deaths; the mortality rate continues to drop and is now at 1.3% overall.  With nursing homes accounting for 59% of all death in Kansas but just 5% of the cases, the mortality of all other cases is at 0.6%.
Twenty-two of the state's 105 counties reported no new cases last week.  One county reported a decline in cases and 37 counties had five or fewer new cases.