CBS News reports that a U.S. Department of Labor investigation found school-age children were hired to work on overnight cleaning crews in slaughterhouses in eight states, including the Cargill facility in Dodge City.  The children were not hired by Cargill but by one of its contractors, Packers Sanitation Services Incorporated (PSSI), and USDOL didn't make any misconduct claims against Cargill.
The story was featured on a recent episode of 60 Minutes, which focused on a facility in Grand Island, Nebraska, that is owned by JBS Foods.  A 14-year-old girl explained to her middle school teacher the acid burns on her hands and knees were from working on an overnight cleaning crew in a local slaughterhouse.  The U.S. Department of Labor investigation eventually discovered PSSI had hired over 100 school-age children, as young as 13, in eight states to work the overnight shifts.
Source: U. S. Department of Labor
Shannon Rebolledo was the UDOL lead investigator:
"It seemed to be known within the community that minors either are or were working overnight shifts. They told us about children that were falling asleep in class, that had burns, chemical burns. They were concerned for the safety of the kids. They were concerned that they weren't able to stay awake and do their job, which is learning in school."
The Grand Island facility employed some 27 children hired by PSSI, the largest number among the 13 locations investigated.  The next highest was the Cargill plant in Dodge City, with 26 children.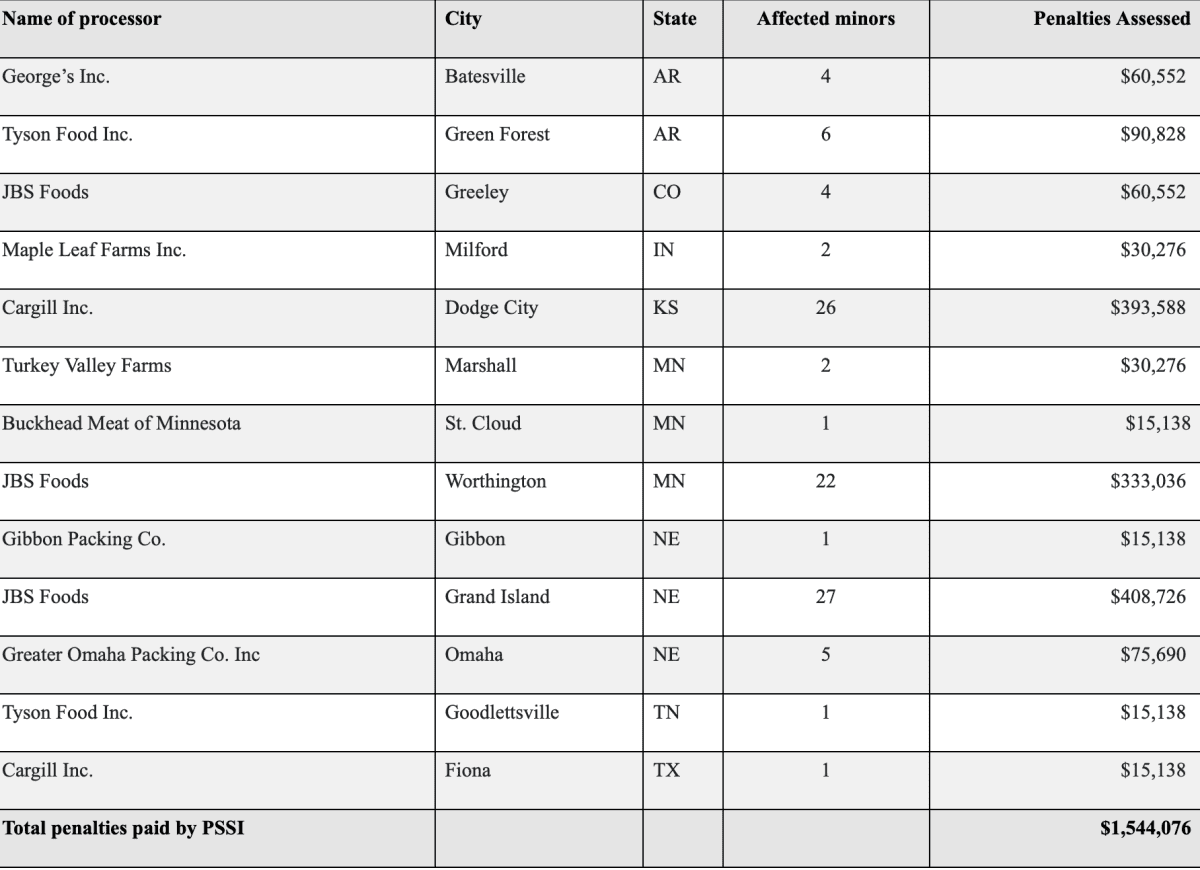 In all, PSSI paid a fine of over $1.5 million, over $15,000 per teenager hired in the slaughterhouses, for violation of the Fair Labor Standards Act, which prohibits minors younger than 14 years old from working and prohibits 14- and 15-year-olds from being employed later than 9 p.m. during the summer months and 7 p.m. after Labor Day.
CBS says PSSI is the nation's largest cleaning service, working in 432 slaughterhouses nationwide.
Cargill issued this statement when the settlement against PSSI was announced:
"The allegations settled today between PSSI and the Department of Labor did not involve any claims of misconduct against Cargill. The allegations against PSSI were not substantiated by any evidence in a court of law. The only PSSI employee allegedly working at a Cargill facility who was identified by name as a minor by the Department of Labor, was investigated and proven to be an adult.
"Under no circumstances does Cargill tolerate underage labor and will terminate existing contracts if they are violated. We have robust auditing processes and contractor requirements, and we hold all third parties to the highest ethical standards."
As a result of its settlement with the government, PSSI fired about three dozen local managers, recently hired a new CEO following the retirement of its previous leader, pledged $10 million for child welfare programs, and agreed to employ a compliance officer to monitor its hiring practices.
We reached out to the Kansas Department of Labor for comment on this investigation, including any role it had in the probe of PSSI in the Dodge City slaughterhouse, but did not receive a response.