The City of Wichita is planning to develop private land for parking and other use that is not currently owned by a developer. The latest draft of the Ballpark Village Master Plan examines the situation around the ballpark and subsequent commercial development planned for the land facing the Arkansas River. The plan relies heavily on city use of private property as seen in the adjacent image from the draft plan.
The land outlined in yellow area near the Arkansas River is owned by the Metropolitan Baptist Church. Per the draft, "the City of Wichita seeks eventual development of at least 35,000sf of commercial space on the Church site, in addition to at least 65,000sf on the stadium site, to contribute to Star district revenue that is being used to fund construction of the stadium and associated infrastructure."
The city needs more than just the initial agreed-upon development to pay off the STAR bonds created to build the stadium.
The yellow rectangle to the west of the stadium between Maple and Texas is slated to be developed as parking for the stadium similar to the old parking lots adjacent to the stadium. The development of this lot has been glossed over in recent weeks. The Wichita Eagle reported, "That property had been purchased by Jerry Jones through Townstreet Parners LLC."
According to the Open Records for Kansas Appraisers website, Townstreet Partners does not own all the land. The property marked with a green "X" in this image is owned by Townstreet Properties. A homeowner on one of the parcels designated for parking that's not owned by Townsend, who asked not to be identified due to privacy concerns, confirmed awareness of the plan to turn the area into a parking lot. The homeowner also confirmed that developers had offered to purchase the property, but noted they haven't been pushy.
In the urgency to build the new stadium and develop shopping and restaurants to pay for it, parking has emerged as a thorny issue. The city's draft plan designates planned parking with a "P" in the image below, but most of it is private land that, as the city describes it, is "private land with redevelopment potential." That may be bureaucracy-speak meaning they have not found the money to do it or found owners willing to sell. The city is encouraging parking across the Arkansas River in private parking garages near Century II and Intrust Bank Arena.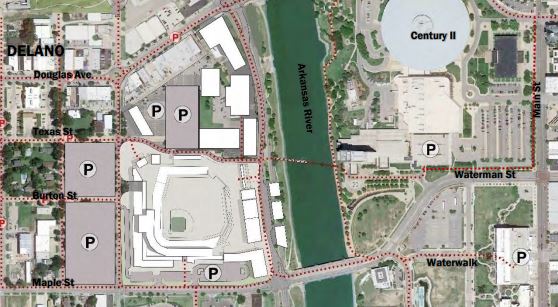 Interestingly, the city makes no reference to the large parking lot to the south of the old library at Main and Waterman, which many current Century II patrons use to attend events at that venue. This could lead to speculation that the city is planning something other than parking for that land.