As of May 20, the 7-day moving average of the daily increase in COVID cases is down to 2%.  That's a dramatic decline from April 1, when it was 21% and even from 7% on May
1.  Yet Governor Laura Kelly still says it's not low enough to completely reopen Kansas, and she won't even set a target to remove all of her restrictions.
According to the Kansas Department of Health and Environment, there are no confirmed or suspected cases in 21 of the state's 105 counties; another 22 counties have three or fewer cases.
More than half of all the cases are in 96 clusters identified by KDHE.  The reported mortality rate is 3.2% in the clusters and is now down to 1% elsewhere.  The actual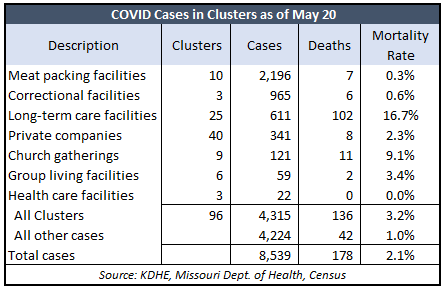 mortality rate is likely a lot lower, however, because the Center for Disease Control says there are likely many cases undetected that are asymptomatic.  The reported mortality rate in the state's largest cluster, meatpacking facilities, is just 0.3%; additional testing in those facilities may be catching more or those asymptomatic cases and driving down the mortality rate.
The average daily COVID increase rate is below 2% in many counties.  It's 1.5% or less in the state's three largest counties of Johnson, Sedgwick, and Wyandotte.
Preventing hospitals from being overwhelmed with COVID cases was one of the main reasons cited for shutting down the economy by Governor Kelly and health officials, but that didn't happen.  As of today, KDHE reports just 258 cases required admission to intensive care units since early March.
Figures 2-6 below shows the decidedly downward trend in new cases for some of the larger counties in Kansas.  Figure 7 reflects the same for 96 counties (excluding Johnson, Wyandotte, Sedgwick, Leavenworth, Shawnee, and the meatpacking counties of Finney, Ford, Lyon, and Seward).