The new state assessment results from the Kansas Department of Education show achievement continuing to decline, with many more high school students below grade level than are on track for college and career.
In math, 47% of high school students are below grade level (Level 1) and only 20% are on track (Levels 3 and 4).  Results for English language arts show 35% below grade level and 28% on track.  The rest are in Level 2, which KSDE considers at grade level but still needs remedial training to be on track for college and career.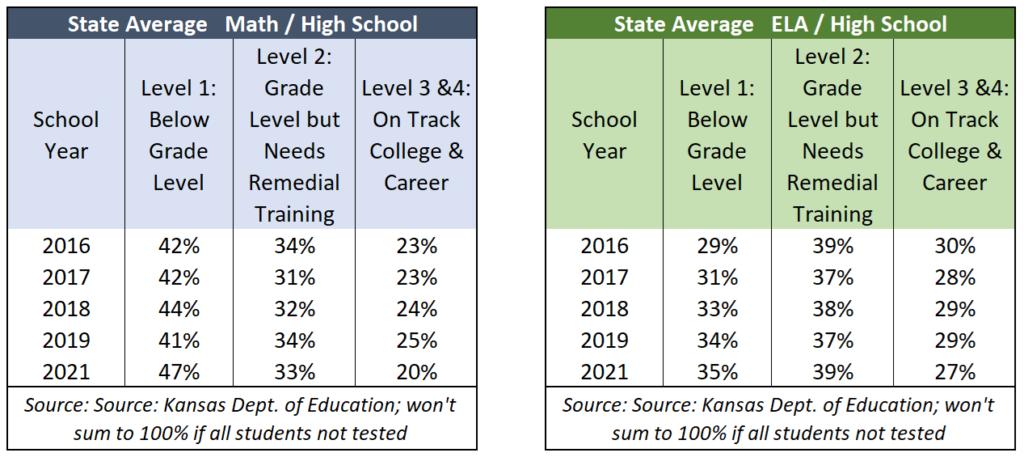 The 2021 results were anticipated to be lower since many districts restricted in-person learning through much of the last school year, but some districts do show small improvement compared to 2019.  The assessment was canceled in 2020 after Governor Laura Kelly closed schools in March over COVID.
USD 229 Blue Valley was one of the districts that kept students out of school for much of the 2021 school year.  There has been a rather steady decline in the portion of high school students on track in math and ELA.  That makes it difficult to say how much of the drop from 52% in 2015 to 43% in 2021 on track in both subjects is COVID-related.
By contrast, nearby Louisburg kept schools open all year for in-person learning, and high school students there did better than in 2019.  USD 416 improved in math from 27% on track to 28%, and from 38% to 52% in ELA.
The share of high school students below grade level has been rising in Blue Valley over the years, while Louisburg registered significant decreases on that measure.
House Education Chair Kristey Williams (R-Augusta) says school districts must be laser-focused on their primary mission of academically preparing students for college and career.
"We can tout higher graduation rates, but when basic standardized tests show no, or limited, correlation — there's a problem. When 90% of our free and reduced lunch high school students and 70% of the more affluent students are not proficient –something is very wrong. Somehow, we've gotten off the academic excellence track and need to find our way back."
Education officials try to reduce standards
The Kansas Department of Education hasn't spoken about the results posted on its website, but officials may try to deceive parents by claiming students in Level 2 are also on track for college and career.
KSDE and other education officials recently claimed to have modified the 2015 standards but when asked for proof that the State Board of Education did so, they didn't respond.
The slide below from KSDE's 2015 presentation to the Legislature clearly shows only Levels 3 and 4 as being on track for college and career.
Other evidence that only Levels and 4 are considered on track include:
— This summer, KSDE gave awards to districts for being academically prepared for postsecondary success.  They write, "For Kansas to achieve its vision for education in the area of academic preparation, 75% of all students need to score at or above Levels 3 and 4 on state assessments."
— The Academic Achievement section of KSDE's plan to the U.S. Department of Education says, "Levels 1 and 2 are categorized as not proficient. Levels 3 and 4 are proficient."
— As recently as September 25, a KSDE official emailed a parent saying Level 2 is not on track.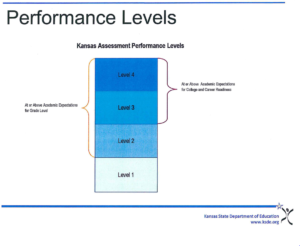 This isn't the first time that KSDE and the State Board of Education tried to reduce standards to make achievement look better.  In 2002, they lowered cut scores to make it appear that 11th graders went from 29% proficient to 55% proficient in one year.
Other district-level results
The table below reflects high school results for most of the larger districts in Kansas.
Many districts in Kansas have more students below grade level in math and English language arts than are on track for college and career.  Math results are particularly worrisome, with half or more of high school students below grade level in Wichita, Gardner-Edgerton, Topeka, Kansas City, Salina, Geary County, Dodge City, and Garden City.
Complete results are at KansasOpenGov.org.