An email from Principal Scott Roberts on January 7 informed parents of Blue Valley Southwest (BVSW) students in USD 229 that masks would be mandatory for at least two weeks
beginning January 10, because the COVID positivity rate was 3.2%.  But district officials will not provide full documentation for the mask order.
The district doesn't just count students who test positive in their positivity calculation; they also include students whose status is unknown and students who are testing negative.  And they won't provide the breakout.
Blue Valley also changed the denominator in the positivity calculation to push the rate higher.  Last year, the so-called positivity rate was based on the number of students and staff in each building, and 34 people counted as positive is just 2.8% of 1,199 staff and students at BVSW.  But now the district is just measuring against the number of students, pushing the so-called positivity rate to 3.2%.
USD 229 has a history of deception
This is at least the second time that district officials have been caught fabricating the COVID positivity rate.  Board policy adopted in November said masks would be required if a building recorded a 3% positivity rate with COVID positive and exclusions and the mandate would remain in place for two weeks.
At the December 9 school board meeting, parent Amy Thomas shared proof that the district
is including students quarantined as a precautionary measure, as well as those who submitted to a COVID test to avoid being quarantined.
For the week ended December 8, for example, the 15 positive results among the 3,773 staff and students in the entire BVSW feeder system would produce a 0.4% positivity rate.  But district officials reported a 1.54% positivity rate because they reported 58 cases, counting the 9 quarantines and the 34 people who tested to stay in school.  Even pretending that students quarantined were positive because they allegedly were near someone who tested positive, the positivity rate would have been 0.6%.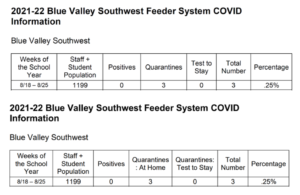 Thomas' revelation prompted a debate among school board members, which clearly showed that the district was not following the approved methodology.  Still, district officials knowingly continue violating board policy and even revised the report to give the appearance of complying.
Column 5 of the report, originally titled "Test to Stay," tracked the number of students who opted for regular testing to avoid being sent home for being presumed to be positive.  Now, it is falsely called "Quarantines: Test to Stay."  Those kids are not quarantined; district officials are merely saying that in a deceptive attempt to include them in the board policy of only counting positives and quarantines in the positivity calculation.
No basis for the 3% rule; it's just for staff benefit
The basis for the 3% positivity mask trigger was also disclosed during the December 9 board discussion.  There is no scientific or medical basis; Superintendent Tonya Merrigan said it is for the convenience of staff.
Merrigan said staff was doing as much testing as they could do, and the inflated positivity rate was to ensure staff didn't have to do more testing.
Board member Mike Seitz said he didn't mean to upset the staff, but Merrigan had the wrong focus.
"I don't think we should make a policy decision, in this case, on the basis of, gosh, it really is hard to do. I think we have an obligation to make a policy decision on the basis of what's right, and figure out how to do it."
Seitz was ignored.  The district doubled down on the deception as explained above to impose its political will and force students to wear masks.
At press time, we still don't know how many BVSW students tested positive.  We also asked Johnson County officials for the number of quarantine orders they imposed (only county health departments, not school districts, can issue quarantine orders) but they also have not responded.
Help us hold government accountable
The Sentinel is the only news organization in Kansas dedicated to holding government and media accountable.  We accept no government funding and rely solely on the generosity of our readers to support this important work.  If you can, please consider making a secure online donation today.