A study of the nation's 500 largest school districts indicates that masking children in school had the opposite effect that proponents hoped — children in masked districts experienced, on average, 4-times the number of disrupted learning days as those in mask-optional districts and they also had 2.5 times higher case rates during the same period.
Authors Emily Burns, Josh Stevenson, and Phil Kerpen analyzed data gathered by Burbio which tracked the weekly masking status of the 500 largest school districts in the country, some 19 million public school students, and represented in Kansas by Blue Valley, Olathe, Shawnee Mission and Wichita districts.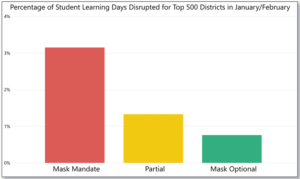 The authors define "disruptions" as a school day of no instruction, remote learning, a hybrid of in-school and remote, or a delayed start to the school day.
Their findings are harshly critical of guidelines from the Centers for Disease Control (CDC):
One of the reasons we were told masks were essential for school kids this year was that masks would reduce the likelihood of school closures, by reducing disease incidence. Unfortunately, like so much the CDC has promised, the opposite turns out to be true.
The study says the highest rates of school closures occurred in January, when the omicron wave peaked. Virtually all school closures in February were among masked schools.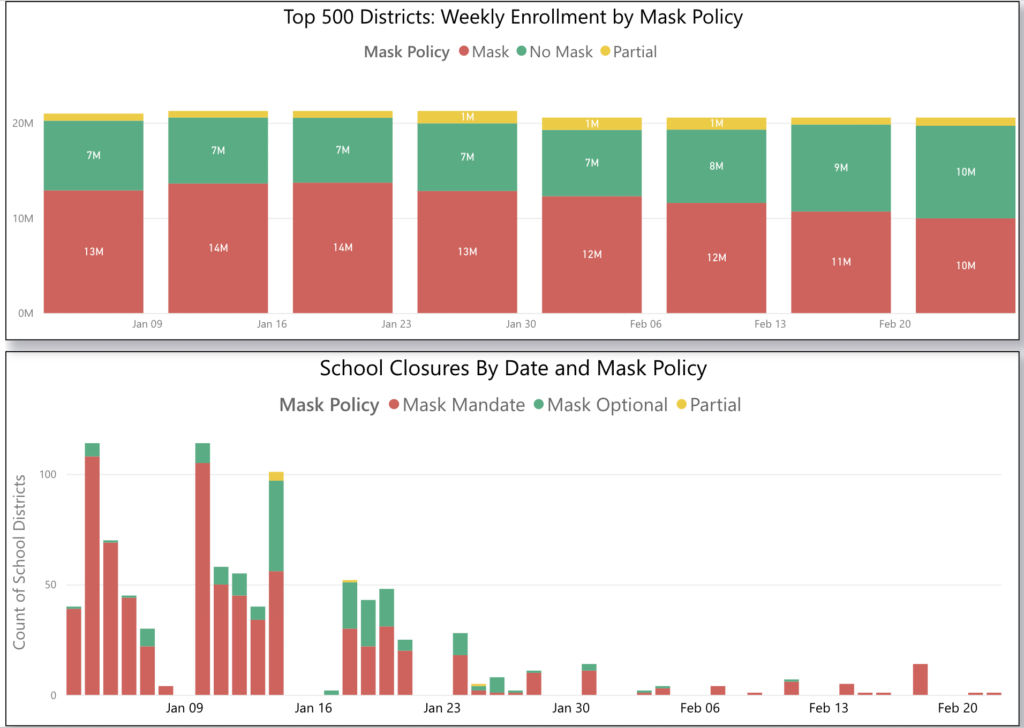 The authors also find that children in masked schools experienced more and lengthier disruptions.
Among the top 500 school districts (which account for 40% of the nation's school children), 35% of children in mask-required schools experienced school disruptions, where only 11% of children in no-mask/mask optional schools experienced such disruptions. Additionally, those disruptions were longer, with mask-required schools experiencing an average shutdown of 4.74 days vs. 3.39 for mask optional.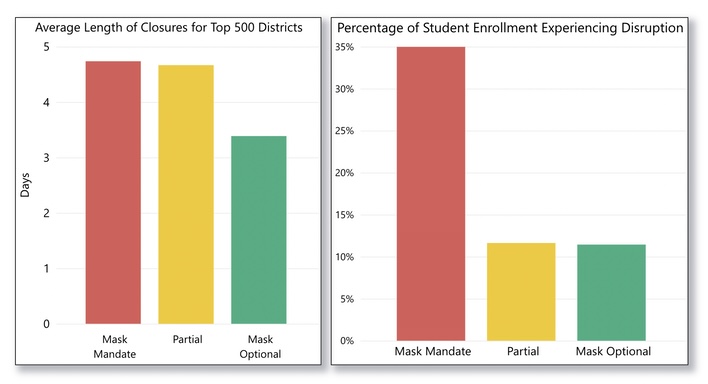 The authors continue their charge against the CDC:
This result is as important as it was expected. The CDC promised that whatever potential (and willfully ignored) harms might come to children from two full years of forced masking, they must be risked due to the added safety and schooling that masking would ensure. Neither claim ended up being true.
The data also shows that children in mask-mandatory schools had a much higher COVID case incidence than those in mask-optional schools.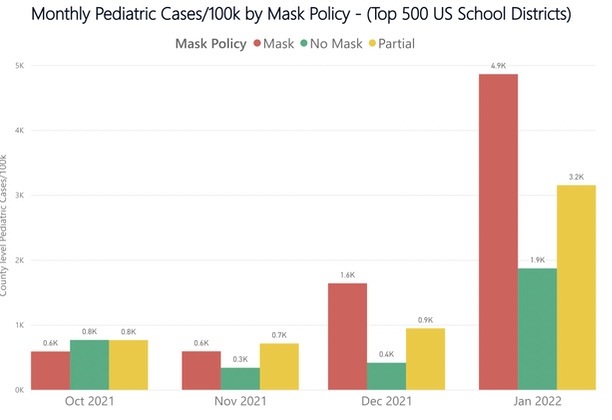 The authors argue that government control, using mask mandates in schools as its chief manifestation, was largely to blame for school disruptions during the pandemic. They believe masking rates correlated to the lack of in-person learning due to the "myth" that masking reduced the transmission of COVID.
Thus, we have seen this pattern before, the pattern where the level of mitigation efforts correlates not to decreased disease but rather to decreased access to in-person education. Fortunately, this year, the differences are smaller, and the magnitude of loss (is) less. But the lesson remains: More masks equals less school (and, paradoxically—but probably not causally—more COVID).
Senate Bill 541, approved by the Senate and awaiting action in the House, would prevent school districts from issuing mask mandates and requiring vaccine passports.