More than 6,000 Christians in Nigeria, mostly women and children, have been slaughtered by Fulani Muslims since January, but from the perspective of American media that injustice is not nearly as newsworthy as that of a Kansas prisoner having her headscarf allegedly called a "rag."
As reported by HuffPost, "Valeriece Ealom, a 49-year-old Muslim woman, said correctional officers at the Leavenworth Detention Center (LDC) called her headscarf a "rag" and ordered her to remove it if she wanted to leave her cell."
As reported in the New York Times, "A spokesman for the U.S. Marshals Service said the agency is looking into the allegations."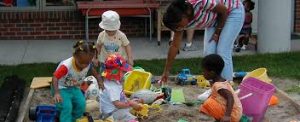 The national media particularly like the story because the LDC, a maximum security facility, is run by CoreCivic, a private prison operator. The media labor under the collective illusion that publicly managed prisons–the Jackson County Jail comes quickly to mind–are run more humanely.
"We do not tolerate discrimination of any kind, and cultural and ethnic sensitivity education is part of every employee's training," Amanda Gilchrist, the company's public affairs director, told HuffPost in an email. "CoreCivic cares deeply about every person in our care, and we work hard to ensure those in our facility are treated respectfully and humanely." Bah, humbug.
What the media do not say is what landed Ms. Ealom in a maximum security prison. That story also made national news too. It's worse than you think.
Back in 2003, Ms. Ealom ran a day care center in Kansas City. There she committed some minor violations like using the center as a distribution hub for crack cocaine, leaving crack on the floor next to a four-month old, and placing two loaded guns within reach of the pre-schoolers.
Ealom was released from prison in 2014 and returned in 2017. Reports Tony Rizzo of the Kansas City Star, "Ealom, 49, has been held at the facility since last November after federal prosecutors moved to revoke her parole in a drug case." That's it. Rizzo and his editors have no excuse for not reporting the larger story. They are in good company. The national media did not think the original charge worth reporting either.
"Like many Muslim women, Ms. Ealom believes it is her fundamental obligation to practice modesty by wearing a headscarf," a Muslim civil rights group said in a letter to CoreCivic.
According to Inter-Islam.org, "Allah Ta'ala has described intoxicants amongst other things as being appalling, despicable and hateful acts of Satan and he has commanded us to abstain from them." 
If Ealom were a good Muslim, she would have stopped worrying about her headscarf and heeded Allah on the subject of selling crack out of a day care center.