The Kansas Legislature provides over $500 million of at-risk funding to deliver services to students at risk of academic failure.[i]  According to a 2019 state audit, most of the at-risk spending examined "did not appear to specifically address at-risk students as required by state law," and that still seems to be the case in USD 512 Shawnee Mission.
The district held a special meeting on May 22 to approve a revised budget for the school year just ending, at which Chief Financial Officer Russell Knapp explained the purpose of the budget hearing.
"We are amending the 2022-23 budget, and this is the General Fund because our At-Risk weighting was higher than what we originally in August so this will be additional general state aid and budget authority."
Superintendent Michelle Hubbard noted that the district became aware of the extra funding "in the Fall," and that was the extent of the
information discussed at the meeting.  But the Sentinel compared the original and revised budget documents and discovered that more than $4.3 million was used to increase the ending cash balance of the Special Education (SPED) fund.
About $179,000 was used for pay and benefits in the General Fund.   The balance of the $5.5 million was transferred to the Special Education fund, where about $421,000 was spent on non-certified pay and benefits, $580,000 on transportation costs, and cash reserves were increased by $4,364,357.
With a quarter of students below grade level in reading and math, and another third of students at grade level but needing remedial training to be proficient, it seems the district could put that $4.3 million to good use helping kids instead of fattening cash reserves.  Shawnee Mission originally budgeted to end the year with $20.4 million in special education cash reserves; the revised budget bumps it to $24.7 million.
The Sentinel asked Superintendent Hubbard and school board president Mary Sinclair how the district decided to increase bank balances with the extra revenue instead of providing more services to at-risk students.  We also asked them about the legal requirement to use at-risk funding for at-risk services.
Hubbard and Sinclair did not respond.  Communications Director David Smith responded on their behalf, but he did not address either question.
The school board and management team at Shawnee Mission consistently demonstrate indifference toward its student achievement crisis.   A quarter of all students tested are below grade level in reading and math, and less than half are proficient.  High school results are even worse.  In math, 39% are below grade level and just 29% are proficient, while the reading results are 27% and 38%, respectively.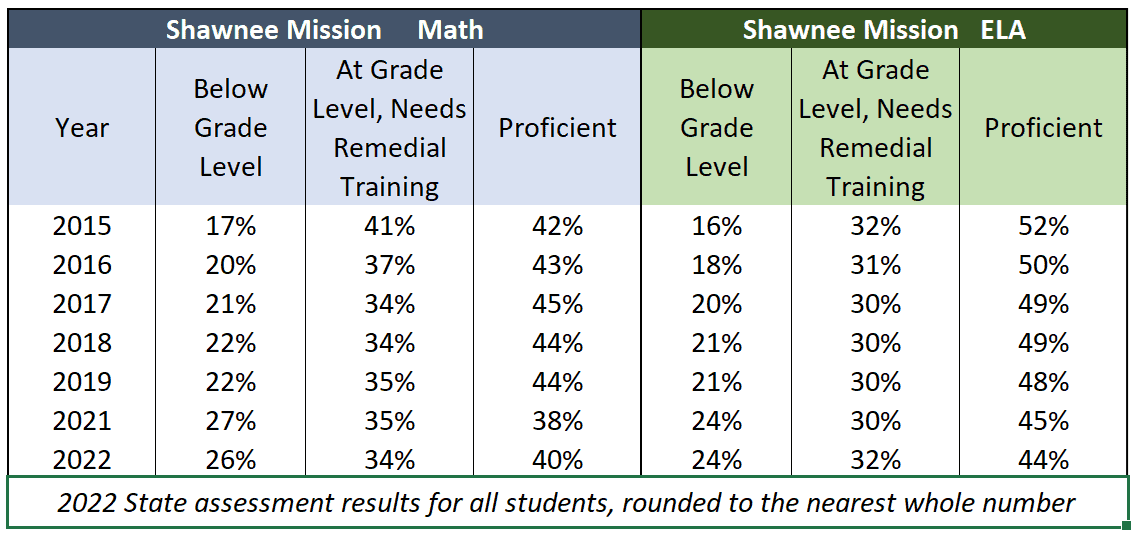 Teachers repeatedly report that gender and race indoctrination take precedent; see here, here, and here for examples, and stay tuned later this week to learn about the board's plan to whitewash poor academic outcomes.
________
[i] "K-12 Education: Evaluating At-Risk Student Counts, Weights, and Expenditures," Kansas Legislative Division of Post Audit, December 2019.