The Sentinel is pleased to welcome Patrick Richardson to the team as a freelance investigative reporter.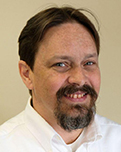 Patrick has been a working journalist since 1992 at community papers across Kansas and for the last 10 years as an editor for newspapers in Southeast Kansas, Northeast Oklahoma, and Southwest Missouri. As a freelancer, he has also broken major stories for national outlets like PJ Media and The Daily Caller.
He was born in Wichita, raised in Southwest Kansas and currently lives in extreme southeast Kansas, with his wife, two Great Danes, an English Bulldog and 10 grandchildren. He currently blogs at StoppingInFlyoverCountry.com and can be reached at [email protected].
Richardson replaces Danedri Herbert, who regrettably is leaving to pursue another opportunity.
Herbert says she will miss the Sentinel and its readers.
"I have loved every minute of working at the Sentinel because I believe so strongly in its mission — to hold Kansas government and media accountable. Though I am moving on to pursue new challenges, I am so grateful to know the Sentinel remains in the capable hands of Gloria and Patrick."
We'll miss you, too, Danedri.
Dave Trabert is CEO of Kansas Policy Institute, which owns the Sentinel