The controversy over Black Lives Matter posters throughout the halls of Washburn Rural High School in the USD 437 Auburn Washburn district continues, and parents seeking answers have become increasingly frustrated by the lack of transparency.
Parents and students sharing information with the Sentinel wish to remain anonymous for fear of retaliation.
One parent expressed concerns that the posters seemed to endorse anti-police rhetoric and other objectionable positions. Principal Ed Raines attempted to justify the posters but his reply raised new issues, prompting the Sentinel to request clarification from him.
"We understand you are telling parents that the school is making a distinction between "Black Lives Matter, the movement" and "Black Lives Matter, the organization" in permitting Black Lives Matter signs in the building. You've indicated that the movement promotes racial equality and equity, but the organization is associated with anti-police rhetoric, violence, and anarchy.
"Parents would like to know what steps the school has taken to ensure that students understand its position in this regard.  For example:
Is there any explanation posted along with the Black Lives Matter posters?
Have you written to students explaining your support for the movement but not the organization?
How do you explain the distinction between 'equality' and 'equity'?"
Raines declined to answer any of the questions, and neither Superintendent Scott McWilliams nor any school board members replied to our inquiry.
USD 437: 'maybe' Blue Lives Matter signs would be approved
A previous exchange with Raines regarding a White Lives Matter sign being removed (the student who did so didn't have permission) disclosed that he takes into account whether 'material and substantial disruption to the school environment' would occur.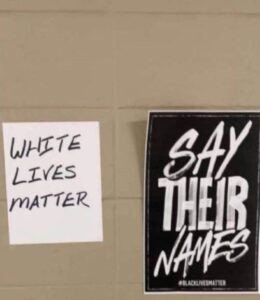 The Sentinel asked if the administration would approve signs for "White Lives Matter, All Lives Matter, and Blue Lives Matter if proposed through the school process you outlined yesterday."
We requested a 'yes' or 'no' response to each type sign, but Raines only provided a blanket 'maybe' with a qualification.
"We would have to believe that such posting would not result in a material and substantial disruption to the school environment, however."
Raines seems to think signs for Black Lives Matter 'the organization' would create a substantial disruption, but he and other USD 437 officials oddly refuse to explain how parents and students are supposed to know whether the district endorses 'the movement' or 'the organization.'
Parents and students say the BLM posters have definitely created a 'material and substantial disruption to the school environment.'