The Shawnee Mission School District will ask voters to approve a property tax increase next January in order to hire additional teachers, but Dave Trabert, CEO of Kansas Policy Institute, says the district could free up money to hire new teachers by outsourcing things like maintenance and janitorial services.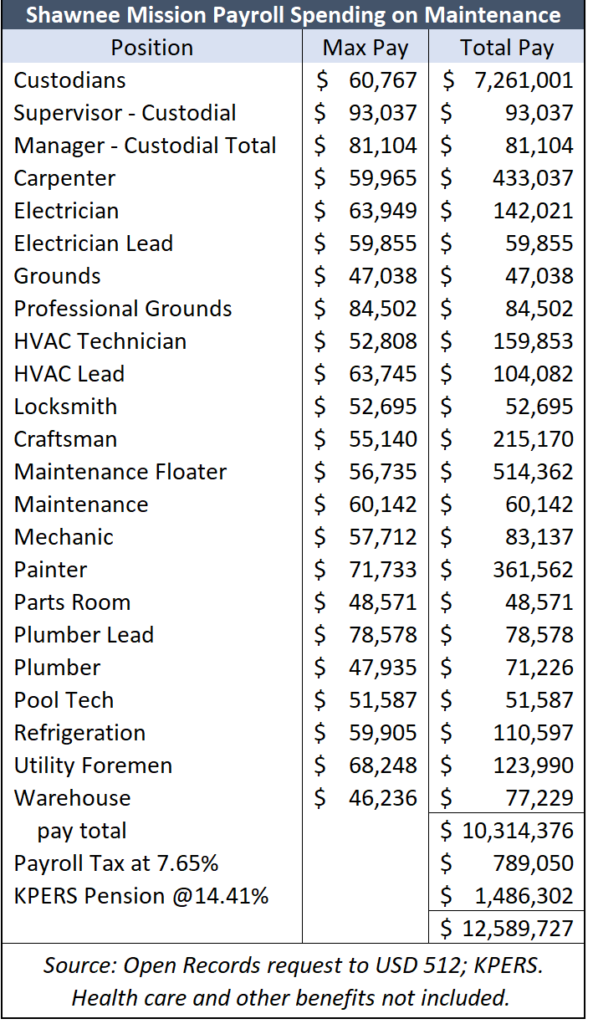 "Outsourcing generally is a way to provide the same or better service at a better price," Trabert said. "That frees up money for instruction."
If voters approve the $264 million bond issue, the additional funding will upgrade five elementary schools and renovate middle schools and high schools. The district will move $4.5 million from the capital outlay fund — typically used for school maintenance — into the general operating budget, where it can be used for teacher salaries.
The Shawnee district spends more than $12 million annually for custodians, carpenters, HVAC technicians, and electricians. The district even employs a painter and a locksmith.
"It's not just the pay. It's all the benefits and the really expensive pension benefits," Trabert said. "The pension cost is more than 14% of payroll."
Non-instructional functions like food service and transportation are already outsourced by some districts.  Few Kansas school districts, if any, in Kansas outsource custodial services, but it is a common practice in other states.
SG360 Cleaning, headquartered in Lenexa, provides janitorial services to school districts in Arkansas and other states. The company provides its school customers with reliable custodial staff and services at a predictable and consistent monthly cost.
"We provide a full-scale statement of work. If a customer comes back to us because of economic pressures, and those pressures will continue, we've had to get creative in terms of how we are providing services back to the customer and getting solutions that don't break the bank," said Mark Callahan, SG360 COO.
COVID increases district cleaning, disinfecting needs
With the COVID pandemic, cleaning and disinfecting is more important than ever, and Callahan said professional services like SG360 stay abreast of the latest mitigations for maintaining clean, safe facilities. For instance, Callahan said districts may need to upgrade HVAC systems with UV generators and initiate additional surface cleaning while kids are at recess.
The custodial services organization focuses its energies on cleaning and disinfecting, so school officials can concentrate on its core function — educating students, Callahan said.
"It's about effective resource management," Trabert said. 
He said school officials should outsource so they're not unnecessarily using discretionary funds.
"They're there to educate kids," Trabert said. "Anything that diverts money and attention from instruction diverts money from their mission."
Shawnee Mission spent $888 per-student on maintenance last year, which is 98% more than Olathe spent, and 49% more per-student than Blue Valley spent.  Getting maintenance spending down to Olathe's per-student level would save the district almost $12 million annually.
Trabert also noted that some maintenance employee salaries are larger than the average teacher salary and far above the starting teacher salary.
According to the Kansas Department of Education, the average public school teacher in Kansas received  base pay of $52,932 last year. In Shawnee Mission, the average teacher earned $62,453 last year, district records show. First-year teachers typically earn less. Meanwhile, the Shawnee Mission School District pays a custodial supervisor $93,000. A custodial manager earns $81,104. One custodian earns more than $60,000.
"Custodial is the example here, but it covers a wide range of non-instruction services," Trabert said.
The district employs a full-time locksmith, painters, and many other maintenance positions.
"Districts need to analyze how often they're going to need locksmiths and painters and what the cost is of bringing someone in versus having multiple employees year-round," he said.
Kansas Policy Institute owns the Sentinel.