An Ohio mother filed a free speech lawsuit in federal court against her school board after being ordered to "zip it" by the board's presiding officer.  In late April the board settled with Ms. Ryder and agreed to end its restrictions on speech.
As reported in The Wall Street Journal, Ashley Ryder sued the Big Walnut Local School District Board of Education in Sunbury, OH over its policy to allow its presiding officer to "interrupt, warn, or terminate" public statements deemed "abusive", "personally directed", or "antagonistic". Ms. Ryder had begun reading a prepared statement criticizing the board over a lack of mental health services for students when she received the admonition to "zip it for a minute", and was refused an opportunity to finish her statement. The official in charge then directed other parents present to explain their position, but refrain from making accusations or "calling names."
Sam MacRoberts, litigation director at Kansas Justice Institute, says the case should be a warning to school boards nationwide: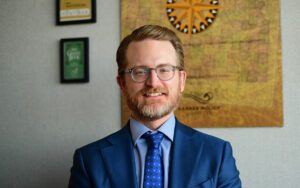 "School Boards don't get to make up the rules as they go along—and they certainly can't create unconstitutional policies that stifle parents' speech. The Supreme Court has been clear that the whole point of the First Amendment is to put free speech beyond government officials' grasps."
Following the ruling, the Big Walnut Board settled the suit with Ms. Ryder and agreed to end its restrictions on speech.
The Sentinel reached out to school boards in Shawnee Mission, Topeka, and Wichita to see if they would make any changes to their policies, but no one responded.  Kansas school districts routinely place restrictions on speech at board meetings and attempt to restrict speech.