The CDC's Advisory Committee on Immunization Practices (ACIP) recommended on Sunday that people 75 and older and frontline workers should receive the next batches of the COVID vaccination. Frontline health care workers and nursing home patients are receiving the limited doses available now, but the CDC panel's recommendations will inform which population groups get the next doses as they become available.
Kansas healthcare workers and nursing home patients received the first doses in the state on Dec. 14. About 24,000 doses of the Pfizer vaccine arrived in the Sunflower State last Thursday. Another 49,000 doses of the Moderna vaccine will arrive sometime this week. Ultimately, state officials decide who is next in line to receive the vaccine.
Kansas officials crafted a state vaccination plan back in October. The living document is subject to regular review and changes. It outlines a three-phase vaccination program for Kansas.
"If your goal is to maximize the preservation of human life with a vaccine then you would bias the vaccine towards older Americans," Dr. Scott Gottlieb, a former chief of the U.S. Food and Drug Administration, told CBS "Face the Nation" in late November. "You would try to get everyone over the age of 75 vaccinated first… If your goal is to reduce the rate of infection, you would prioritize essential workers, so it depends on what impact you're trying to achieve."
Kansas vaccination plan subject to change
The Kansas proposal prioritizes vaccinating healthcare personnel, long-term facility residents and staff, and frontline healthcare workers like EMTs during the initial phase when doses are limited. Officials anticipate that phase will wrap in early winter. A second phase will vaccinate first responders, public-facing essential workers, teachers, and individuals at high risk. All other adults will be eligible to receive the vaccine in a third phase, likely to begin this spring.
"Through this framework, my administration upholds our commitment to maximizing benefits, minimizing harm and striving for equity, justice and fairness when it comes to when the vaccine will be made available to which Kansans," Gov. Laura Kelly said in a statement.
Officials balance science versus social justice
The statement uses identical phrasing to the wording CDC panelists used to balance ethics against science in its vaccination proposals. The CDC committee viewed a PowerPoint presentation that questioned whether prioritizing certain population groups would "maximize benefits and minimize harm, promote justice, and mitigate health inequities."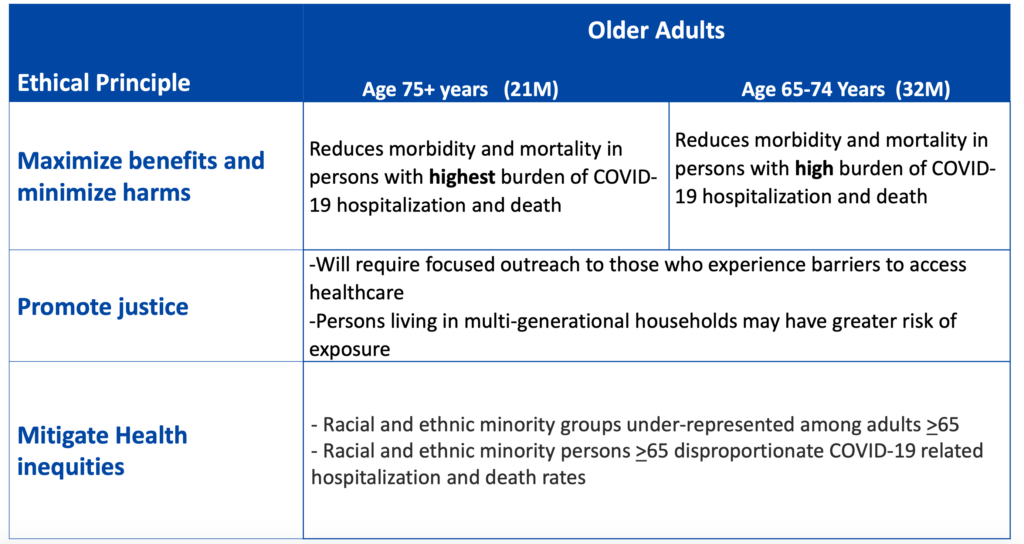 The elderly are more likely to die from COVID-19. The CDC panel on Sunday debated prioritizing frontline workers over older adults. At a November meeting, panelists determined healthcare workers and nursing home patients should receive the earliest doses. However, they set the stage to consider things other than science in later phases of vaccine distribution.
Dr. Peter Szilagyi, panelist and pediatrics professor at the University of California, Los Angeles, said in November that the ethics issue is significant.
"And it clearly favors the essential worker group because of the high proportion of minority, low-income and low-education workers among essential workers," he said.
Under ACIP guidelines, frontline workers will receive priority over those 65 and older. Those over the age of 75 will be eligible for vaccination in the same phase as frontline workers. 
Honor system will deter line cutters, officials hope
Kansas will use the honor system to deter line-cutting.
"We're hoping that people will self-police and the spirit of goodwill and community spirit will carry the day. That, I think, is the most humane way I can say to manage people and treat them as adults that want to contribute to the greater good," Dr. Lee Norman, Secretary of the Kansas Department of Health and Environment,  told the Kansas City Star.
It may be a moot point. According to a recent Gallup poll, only 63 percent of people in the U.S. would be willing to receive the COVID-19 vaccination. That number marks an increase from 50 percent in September. The poll revealed that Republicans and non-white adults between 45 and 64 are the least willing to take the vaccine.
Debbie Mize, Vice President of Kansans for Health Freedom, said she isn't clamoring to receive the COVID-19 vaccine.
"I'm not advocating against the vaccine," Mize said. "What we're advocating is freedom of choice. We don't believe that mandates or incentives should be in place that would force someone to get a vaccine."