Kansas administered only 67% of the COVID vaccine doses it has received so far and Gov. Kelly blames the state's poor showing on COVID vaccinations on data entry problems (again). That's 10 percentage points below the national average, according to Bloomberg's vaccine tracker.  
Nationally, about 16.7 people per 100 individuals have received at least one dose, but in Kansas, the number is 13.4 people per 100. When vaccine trackers first showed Kansas vaccinations trailed the rest of the nation, state officials said the tracking sites revealed a lag in data reporting due to training and not due to slower than average distribution.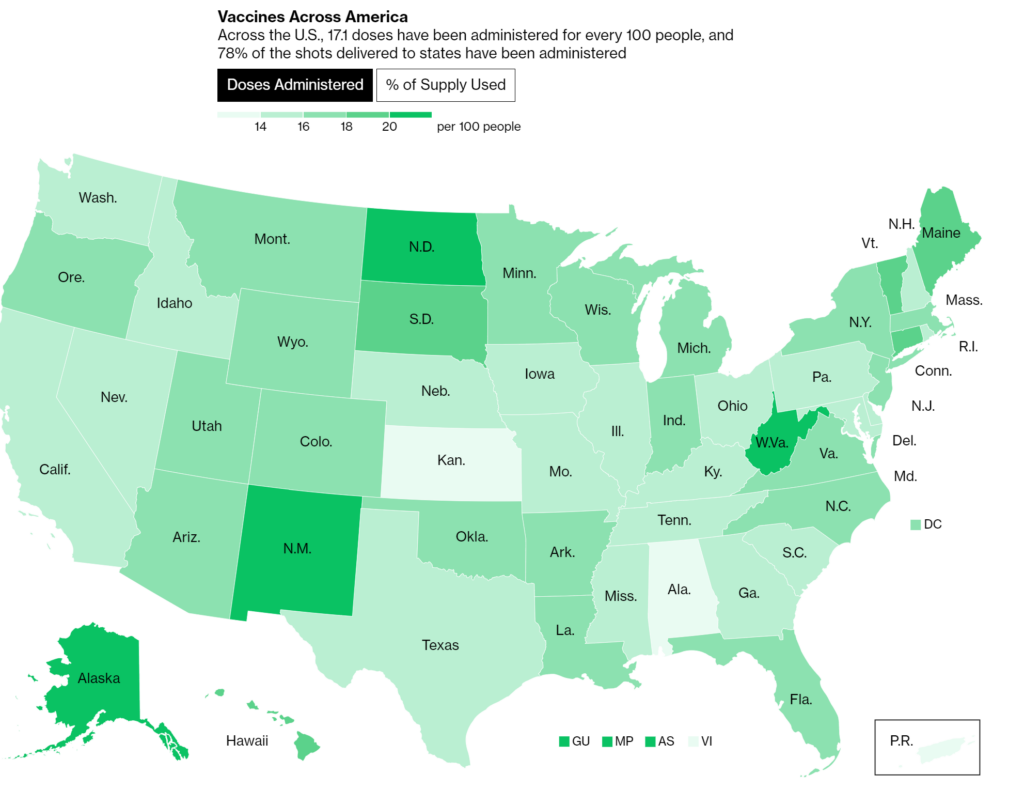 "We hope that as this process moves forward, and everyone becomes trained, we will be able to share accurate numbers more readily," KDHE spokesperson Ashley Jones-Wisner told the Associated Press back in December.
Last week, Dr. Marci Nielsen, the chief advisor for COVID-19 coordination in Kansas, repeated the refrain.
"We need to train some of our providers," she said. "We need to make sure we've got adequate staff to get all of this data in."
"The first week, I bought it," said state Rep. Pat Proctor, a Leavenworth Republican. "There's a data lag, but how many weeks are we into this and we're still almost flat last. The problem isn't reporting."
Kansas ranks 47th in COVID vaccinations used
Currently, Kansas ranks 47th in the percent of vaccines used, ahead of only New Hampshire, Alabama, the District of Columbia, and Rhode Island, the Bloomberg tracker reports. Kansas ranks 48th doses used in the Center for Disease Control tracking system.
Proctor says he'd like to be able to tell his constituents when they will be eligible to receive the vaccines. What little information he receives comes from tracking projects like Bloomberg and even from local distributors rather than from the Kansas Department of Health and Environment.
"Walmart here in Leavenworth and in several other locations is now doing vaccines in phase 2," Proctor said. "Why did I find that out from Walmart and not from KDHE?"
According to the Kansas vaccine prioritization plan, phase 2 includes people 65 and older, high-contact critical care workers in congregate care settings, and unvaccinated Kansans from phase 1. Proctor says lawmakers aren't privy to how many vaccines the state is receiving or timelines for moving into other phases.
Sen. Richard Hilderbrand, a Galena Republican, chairs the joint legislative committee on public health. 
"We've stopped requesting that information from the administration because we don't get it.  Walmart and those big chains are starting to get vaccines and no one is telling us that," he said.
Legislators lack access to metrics, other vaccine data
State governments are responsible for determining how and where vaccines are distributed, but Kansas lawmakers say they're left out of the loop. The Kansas Department of Health and Environment officials admit they have their own metrics for determining how vaccines are allocated across the state, but they're not sharing that information.
Proctor says the press isn't asking tough questions.
"When legislators can corner (administration officials) and ask tough questions, they talk about what they've done, but not about what's left to do," Proctor said. "We have to go out of state to independent agencies to find out how the state is doing." 
The state publishes very limited details about vaccine administration on Mondays, Wednesdays, and Fridays. The dashboard shows the total number of vaccines administered and the number received from the federal government. It also shows the number of doses distributed to each county. 
As of Feb. 15, the Kelly administration says Kansas administered 394,523 doses of the 575,275 doses the state received from the federal government. Approximately 10 percent of the state's residents now are vaccinated.
Proctor's district includes Fort Leavenworth, and therefore, a large number of military families and veterans eligible to receive the vaccine from the U.S. Department of Defense and the U.S. Veterans Administration. 
"The VA and the U.S. Department of Defense have pretty good methods for getting vaccines out to veterans and military personnel. The overarching point is they have a system and a plan, and they're executing it. They're getting people vaccinated," Proctor said. "The people who aren't in those groups in my town, they're on a list for weeks and weeks and weeks of time. They are people in phase 2 who are eligible and should be vaccinated. When they ask why their neighbor is vaccinated and they can't get one, I hate to have that conversation. It's because our state government is inefficient."