Kansas is one of 18 states to see a decline in population between July 2021 and July 2022, according to the Census Bureau.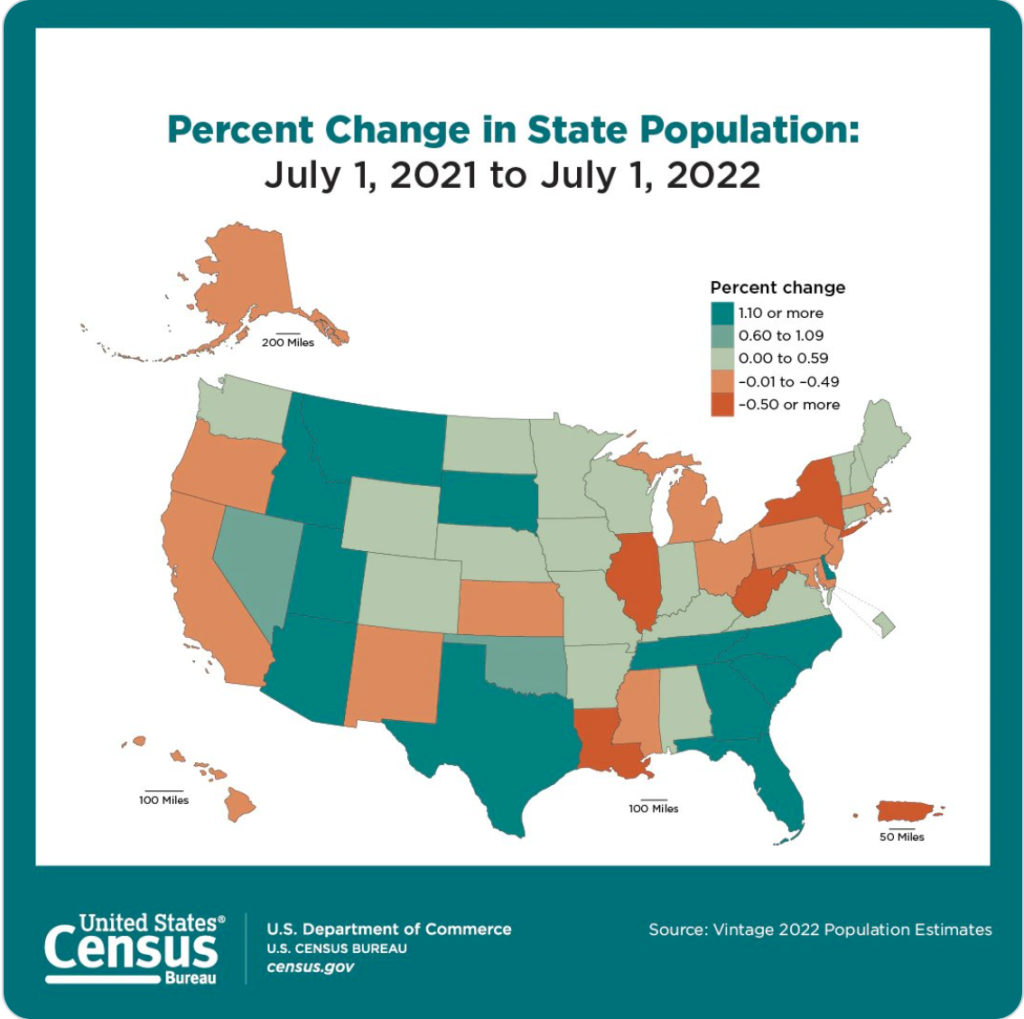 The Sunflower State is alone in population loss in the region. The closest Midwestern state on the list is Illinois.
Negative domestic migration, or more U.S. residents leaving a state than moving in, is a primary cause of the decline.
Census figures for states bordering Kansas for the period illustrate the phenomenon:
Kansas had a net loss of 7,409 residents to negative domestic migration, resulting in a net population loss of nearly 800.
Colorado's population increase of more than 28,000 includes over 5,000 due to domestic migration.
Missouri added a little over 8,000 residents, of which 5,000 was due to domestic migration.
Oklahoma's population jumped more than 28,000 and almost of it came from domestic migration
Nebraska is the only neighboring state that had negative migration, losing 4,270, but still managed a population increase of about 4,000 people.
A state's economic climate, including tax policy and job opportunities, are major factors in decisions to relocate.
Kiplinger uses state income tax rates, average combined state and local sales tax levies, and median property tax rates to judge "Tax-Friendly States for Middle-Class Families" and "Tax-Friendly States for Retirees", and finds Kansas wanting in both cases.  Kansas is the sixth-worst for middle-class families and the third-worst for retirees.
Interestingly, Nebraska is also found to be "unfriendly" to retirees, possibly a reason for its negative domestic migration; and nearby Iowa joins Kansas on Kiplinger's "unfriendly" list for both middle-class families and retirees. The Hawkeye State saw nearly 7,300 residents move out of the state during the period studied, which is part of the reason that Iowa Governor Kim Reynolds signed a bill in 2022 to move Iowa to a much lower, flat income tax rate and eliminating income tax on retirement income.
Is tax reform needed to halt the exodus when the Kansas Legislature returns to work in 2023?
Alan Cobb with the Kansas Chamber of Commerce says "Yes":
"We are the only state in our region that lost population.
"We need more people moving into our state and fewer people leaving.  Economic opportunity drives migration.  Sound tax policy and a regulatory policy that encourages growth should be at the top of the policy list.  These are changes that the Kansas Legislature and the Kansas Governor should support."
Elizabeth Patton with Americans For Prosperity agrees:
"Taxes are a decision maker. Not only for individuals and families deciding if they want to stay, but they are also the key if they are able to stay because of our opportunities. Higher taxes for both individuals and businesses make it harder to build a life, a business, a future. Tax relief would make a significant difference in hard-working Kansans building that future right here in our state."
James Franko is President of the Kansas Policy Institute, which owns The Sentinel. He calls for the incentives that tax reform provides:
"Lowering taxes isn't about bean-counting or slashing government; it's about providing opportunities to individual Kansans. It's about trusting individual Kansans to capture those opportunities and make the best decisions for themselves, their families, and their futures."