The Kansas Chamber today released survey results that show a major shift among the Kansas business community and its desire for the state economy to reopen as the COVID-19 pandemic begins to ease.
"While our studies are NOT replacements for health data and do not in any way seek to minimize the steps taken by governments at different levels to slow the spread of COVID-19, we believe it is important for elected leaders and decision makers to understand the point of view of those on the front line of the economy," said Kansas Chamber President and CEO Alan Cobb.
Cole Hargrave Snodgrass & Associates recently conducted two surveys of Kansas Chamber members. The first from March 29th – April 7th and then the second from April 16th – 18th. There was one question repeated in the two studies conducted.
"Earlier in the month, 20% of Chamber members believed the state's actions had been too restrictive on economic activity and 10% believed the state should do more," pollster Pat McFerron explained. "Today, that has moved to 38% believing the state has done too much and only 1% saying it has not done enough. This shows attitudes in the Kansas businesses community are rapidly changing."
McFerron said the first study also demonstrated just how serious the crackdown on the state's economic activity has been on Kansas businesses. It found 66% were having supply chain issues and 76% have altered work schedules for their employees.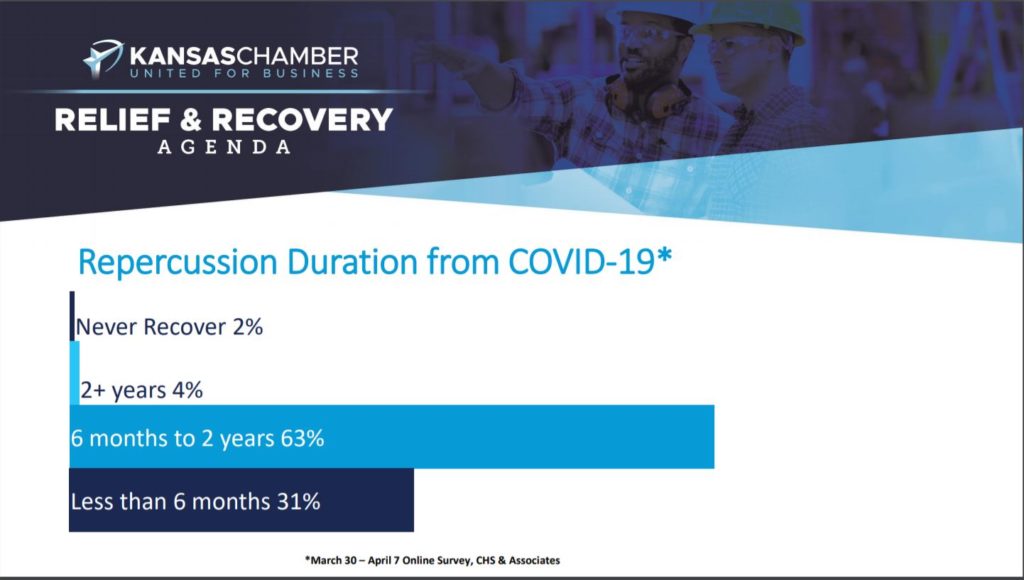 "While many of these changes are allowing employees to work from home, the study found that 23% of employers had been forced to lay off employees, 22% had reduced employee hours, and 25% were providing paid time off. Furthermore, 64% believed it would take six months or longer for their businesses to get back to normal," McFerron continued.
The second survey also revealed 84% of chamber members believe the time to reopen the economy is either now (38%) or in the next two weeks (46%).
"This sentiment transcends all industry groupings and is pervasive throughout the state. Those in Sedgwick and neighboring counties are particularly interested in reopening the economy," said McFerron.
The second study further revealed Kansas employers also are largely united on believing the state should not take a slower approach than the federal government. When asked if the state should allow business activity allowed on the federal level, 76% agree and 23% disagree.
"Furthermore, these employers appear supportive of Kansas taking a tiered approach to reopening the state's economy. Eighty-seven percent believe that one-size does not fit all and that those parts of the state where COVID-19 has not been as pervasive or are further ahead on the downslope of the virus decline should be able to open sooner than others," McFerron concluded.
Chamber President Cobb said the Kansas Chamber stands ready to help the state navigate this crisis and to move Kansas from a criteria of "essential businesses" to a plan for "safe businesses".
"I talk every day with Kansas business leaders across the state that are taking extra precautions to protect the health and safety of their workers and customers to ensure we don't return to the exponential spread of this virus we once experienced," said Cobb. "However, the economic impact of the COVID-19 crisis will have long-term consequences. Kansas needs to begin planning now so our businesses, their employees and citizens have confidence in the safety of their workplaces so we can begin to reopen the Kansas economy."