The Centers for Disease Control issued new quarantine guidelines allowing shorter quarantine periods following close contact with a COVID-positive individual. However, at least one Kansas county rejected the new recommendations in favor of longer quarantine periods.
Prior to last week, the CDC recommended 14-day quarantines for people who come into contact with someone infected with the virus. The new guidance allows people to resume normal activity after 7 or 10 days. Individuals who receive a negative test after day 5, can end their quarantine after day 7.  An individual who was exposed to someone who tested positive but did not get tested and has no symptoms can return to work after 10 days while continuing to monitor for symptoms up to 14 days.
The CDC listed reasons for limiting quarantine periods, noting that 14-day quarantines imposed personal burdens damaging to physical and mental health and caused economic hardship that hampered compliance.
"Implementing quarantines can also post additional burdens on health systems and communities, especially during periods when new infections, and consequently the number of contacts needing quarantine, are rapidly rising," the CDC guidance reads.
Wyandotte rejects quarantine guidelines
Wyandotte County's Unified Government is sticking to the original 14-day recommendations, despite quarantine-related staff shortages limiting beds at the University of Kansas Hospital in Kansas City, Kansas.
"It can take up to 14 days after exposure to the virus for someone to develop COVID-19," Elizabeth Groenweghe, chief epidemiologist for the unified government, said. "That has not changed."
KU Med reported 153 hospital beds available in early November, but hospital leaders told FOX 4 News they only had staffing for 76 beds. The research hospital is one of the largest hospitals in Kansas and in the Kansas City metro. A staff shortage means turning away patients from rural areas.
The CDC admits there is a risk that those exposed to COVID-19 can infect others for up to 14 days. However, the likelihood dips significantly after day 10. 
"With this strategy, residual post-quarantine transmission is estimated to be about 1 percent," the CDC recommendations read.
JoCo adopts new recommendations
Johnson County adopted the new CDC quarantine guidelines Thursday. Dr. Sanmi Areola, director of the county health department, said close contacts should continue to monitor themselves for symptoms for the full 14 days. They can end their quarantines end after 7 or 10 days, however.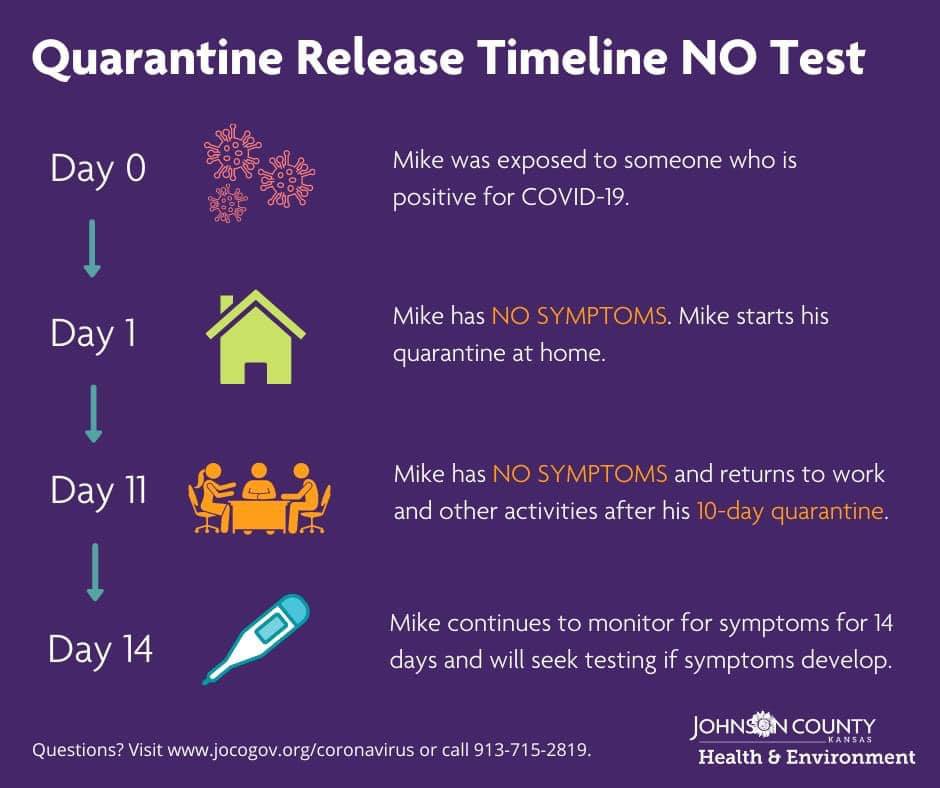 The CDC says its updated guidance balances the reduced burden of a 14-day quarantine against a small possibility of viral spread.