Gov. Laura Kelly told reporters on Wednesday that she intends to host bipartisan talks with legislative leaders to craft a statewide mask mandate. A mask mandate is necessary due to spikes in COVID-19 cases in rural Kansas counties, she said in a press conference.  City and county officials can implement a mask mandate now if they think it's necessary, but Kelly wants legislative leaders to strip city and county officials of local authority and make every Kansan obey her order.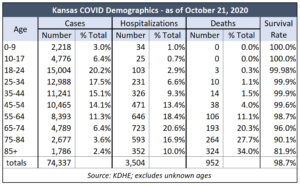 The Governor noted that 74,400 Kansans tested positive for coronavirus and 3,500 have been hospitalized since March. To date, the Kansas Department of Health and Environment reports that 952 Kansans have died from COVID. But Kelly didn't mention that the virus has a 98.7% survival rate in Kansas.  She didn't say that more than half of the reported deaths are isolated in clusters and most of those are in nursing homes, where visitors are not permitted and employees are supposed to be wearing masks.  There was also no acknowledgment of the suicides and attempted suicides related to isolation orders and restrictions imposed by state, local, and school districts.
Governor Kelly didn't mention that, as reported by the Sentinel and ignored by mainstream media, an unknown number of positive results are probably detecting genetic particles that aren't contagious because of test settings at the state lab and many private labs.
And then there's the fact that there were about 74,000 fewer people employed in Kansas in September than in February, at least partially due to government mandates and restrictions on economic activity.  There was no mention of the job loss and the thousands of businesses struggling to stay afloat at the governor's press conference.
But Governor Kelly said mask mandates aren't political.
"Wearing a mask should not be political," Kelly said. "It's about public health and keeping our economy and schools open. We cannot sit by as the cases continue to rise."
Kelly announced the proposal for bipartisan talks before speaking with legislative leaders.
"If the Governor was truly concerned about finding common ground and keeping Kansans healthy, she would have reached out to legislative leadership before making a grand pronouncement," House Majority Leader Dan Hawkins, R-Wichita, said. "Instead, she once again chose to negotiate through a press conference. The Governor's approach makes for fine political theater but does not make for good policy discussion on how to keep Kansans healthy."
Mask Mandate Issued July 3
Through an executive order, Kelly issued a mask mandate on July 3, but state law allows local officials to opt out, and 89 of the state's 105 counties did so. Kelly said as of Monday, two-thirds of new coronavirus cases are from rural parts of the state but she didn't define 'rural' and offered no data to support her statement.
The Kansas Department of Health and Environment reported 424 new coronavirus cases on Wednesday, including all 62 residents of the Andbe Nursing Home in Norton. Ten of its residents have died.
"The tragic deaths in Norton are a stark reminder that COVID-19 poses a threat to all Kansans and it doesn't stop at county lines," she said.
Kelly noted that the outbreaks in rural counties are largely driven by cases in jails and in nursing homes. Adult care facilities and prisons are heavily regulated by the state. However, Kelly said outbreaks there denote wider community spread. 
Cases Continue To Climb Despite Mandates
As the Sentinel reported earlier this month, COVID cases grew much faster in the Kansas counties with mask mandates. Between June 29– a few days prior to Kelly's mask mandate– and Oct. 5, the counties that adopted the mask mandate saw a 485% increase in cases. The counties without mask mandates experienced a 208% increase.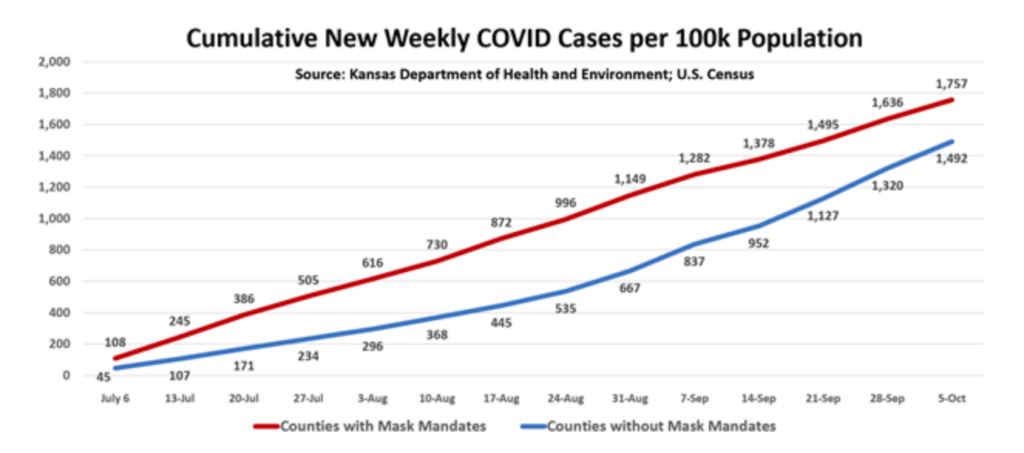 The updated numbers through October 21 show a 582% case increase in counties with mask mandates compared to 276% in the 89 counties that rejected the governor's mandate.
Senate President Susan Wagle, a Wichita Republican, opposes a one-size-fits-all COVID solution.
"Local leaders have done a great job in dictating local responses after public hearings and discussions with their constituents," she said.
If discussions drag through the end of the year, Kelly will not be negotiating with Wagle, as the Senate President did not seek re-election. Kelly said her goal is to begin bipartisan discussions and have a resolution prior to the Nov. 3 election.
"People don't have time for us to wait around to let an election be over with. We need to come to resolution," Kelly said.
She said the number of Kansans who have died of COVID is a cause for urgency. Kansas reports 952 COVID deaths since March. Though case numbers are up, hospitalization and death rates have declined significantly since April even as case numbers continue to increase.