Despite hours of heartfelt pleas from parents and students, members of the Gardner Edgerton USD 231 school board declined to offer in-person learning for middle and high school students. The district is one of the last in the state without any plans or guidelines for reopening classrooms during the COVID pandemic, and a divided board decided they won't reconsider a process for opening. They won't open classrooms until after the holiday break, at the earliest.
"Why is every other district in school in some form while Gardner is not?" parent Jennifer Whitlow asked the board during a meeting on Nov. 9. 
Whitlow was one of more than 50 parents and students who addressed the board about in-person learning on Monday night. The speakers voiced concerns about student anxiety, depression, lack of actual learning time, and stress related to online learning. Most requested that the district change gating criteria to determine when to open schools. 
County recommends remote learning
The Gardner board adopted gating criteria drafted by the Johnson County Department of Health and Environment to determine when it is safe to have students in classrooms. The recommendations suggest that schools should close brick and mortar classrooms when the positivity rate — the number of tests over a two week period divided by the number of positive tests — is higher than 15 percent and/or there are 251 infections per 100,000 people. According to the county health department dashboard, the positivity rate in Johnson County is 14.3 percent. More than 260 individuals per 100,000 Johnson County residents, known as the incidence rate, tested positive for COVID yesterday. 
However, the health department noted last week that the spike in COVID cases is due to community spread and not due to in-person learning.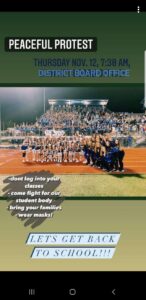 Other Johnson County school districts created their own criteria to get kids into classrooms sooner, and districts like Olathe decided against forcing all students into remote learning in response to the recent spike in COVID cases.
For full, in-person learning, the county recommends a positivity rate lower than 5 percent and an incidence rate of fewer than 50 new cases per 100,000 people. The Gardner district doesn't have a plan to open schools when and if gating criteria for opening is met.
In order to make a public comment before the board, speakers on Monday night wrote requests to speak to the board in the days leading up to the meeting and waited for hours in their cars outside the building to voice their concerns. Each speaker received three minutes of time.
Parents voice mental health concerns
Amy Blake, a concerned parent and critical care nurse, said full emergency rooms and beds happen multiple times per year, though it rarely makes the news. She noted that a positive COVID case is not synonymous with hospitalization or death.
"I'll tell you what honestly clogs up my ER are patients waiting for an inpatient psychiatric bed," she said. "We had one young male in our ER just this month 83rd in line for an inpatient bed. He waited 13 days."
Several parents voiced concerns about the mental wellbeing of their children over nearly three hours of public testimony.
Flower Souter is the mother of an elementary student, a middle school student, and a high school student in the district. Elementary students in the district are learning in-person, but middle school and high school students have yet to learn in district classrooms this year. Souter said her elementary student is thriving, and her middle school student sometimes cries in frustration and embarrassment trying to learn in a virtual setting. Her high school student's grades are suffering.
"The biggest issue for him is his mental health," she said. "Between this quarantine and not being able to see friends, it's taken a toll."
Outside the board office building, police asked peaceful protesters to leave public property nearby, and the superintendent threatened not to allow parents and students to address the board if protesters outside didn't leave.
Teachers voice virtual learning support
Board member Kristen Schultz read, without time limits, anonymous letters she said were from teachers who support keeping the school doors locked. The letters said students are thriving and taking a more active role in the learning process thanks to remote learning.
"My students are working on an extended research project. Daily, I watch them grow," Schultz read from one anonymous letter.
Another unnamed letter writer voiced concerns about community spread.
"We heard a lot from students, but I think there are some things that are going well," Schultz read from another letter.
Board member Robin Stout said she heard the students and sympathized with them.
 "But deep down in my heart, I just cannot, with the numbers going up and everything, I don't feel like it's safe right now to go back to in-person," Stout said.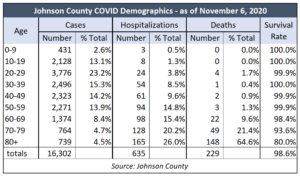 For the record, cases may be rising but an unknown number of those cases are not contagious because the state and Johnson County are using overly-sensitive COVID tests that, according to health experts, will return positive results for non-contagious dead genetic material.  Johnson County and state health officials don't dispute that issue but won't ask labs to provide the information needed to determine how many 'false positives' are being reported.
Also, as of November 6, the survival rate in Johnson County is 100% for kids aged 0-19 and it's 99.7% for adults aged 20-69.
Board voices liability, staffing concerns
In addition to worries about safety, board members said the district faces a lack of substitute teachers and liability issues, even though state legislators adopted legislation last spring that limits COVID-related liability for school districts.
A divided board decided against opening the school buildings to middle and high school students. The Gardner district isn't the only district in the state without older students in person in classrooms, but it is one of the only ones without adopted plans for eventual return to class. The Wichita district, for instance, adopted a plan to provide a mix of remote and in-person learning to students this week. However, school officials there decided on Monday night that they not reopen until after semester break. Gardner doesn't have any plans at all, and school officials aren't scheduled to address the topic again until shortly before Christmas break. 
After the Gardner decision, local students organized a protest in front of the school administration building. It is set for 7:30 a.m. on Thursday, Nov. 12.