The Shawnee Mission School District will unveil the concept of "Evidence-Based Grading" (EBG) in the upcoming school year,fueling the conversation about how best to address declining student assessment scores.
Associate Superintendent David Stubblefield, a proponent of the new concept in student evaluation, discussed it at a recent school board meeting:
"Evidence-Based Grading is where you are not assigning an actual letter grade but you're giving a number system to the learning, and it's mostly mastery of learning; so you give multiple opportunities for students to achieve mastery of a particular subject and then it is given a one-through-four grading system.
"It would line directly with our priority standards so teachers know those what those priority standards are and students would get an opportunity to master those priority standards."
The district already has state assessment scores that identify students' mastery of reading and math skills on an annual basis:
Level 1 is below grade level with a limited understanding of reading and math skills needed to be prepared for college and career.
Level 2 is at grade level with a basic understanding of skills but still needs some degree of remedial training to be proficient.
Level 3 is proficient with an effective understanding of material.
Level 4 is proficient with an excellent understanding of material.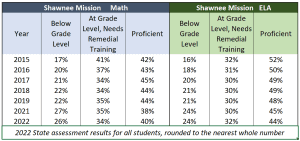 State assessment scores show that achievement has been steadily declining.
In 2015, 17% of all students tested were below grade level in math and 16% were below grade level in readings; now, those levels are 26% and 24%, respectively.  Reading proficiciency fell from 52% of students to 44%, and math dropped from 42% to 40%.
The district also uses the Measures of Academic Progress (MAP) testing in the fall, winter, and spring, and could share those results with parents rather than introduce evidence-based grading for the same alleged purpose.
Superintendent Dr. Michelle Hubbard says the new system is designed to supplement, not replace, traditional letter grades:
"It's a feedback system that communicates students' level of understanding of essential learning targets based on an ongoing collection of multiple pieces of evidence as part of their personalized learning plan."
Hubbard added that research on EBG  is available in other districts:
"It doesn't necessarily mean we'll do away with letter grades especially at the secondary level; that merely we will use both to help students and parents understand how grades reflect actual learning, and we have conducted surveys with families and staff to find out what's important and have conducted research to find out how this has worked in other school districts so we have teams still working in that direction."
We asked Dr. Stubblefield and Dr. Hubbard if evidence-based grading is an effort to rationalize grade inflation and deflect criticism of declining student test scores. Neither responded, but we were directed to District Chief Communications Officer David Smith who responded:
"The idea is that we need to find ways to communicate what students have learned and what they need to learn in ways that are more clear and more meaningful than a traditional letter grade. Our grades have never been intended to reflect how students perform on the state assessment tests, as your question implies. Rather, they reflect what students know and are able to do in relation to the SMSD guaranteed and viable curriculum. Our purpose is to ensure that our grades represent a meaningful and accurate measure of what students are learning."
Dave Trabert, CEO of the Sentinel's parent company, Kansas Policy Institute, says evidence-based grading is just the latest example of Shawnee Mission's coverup of poor performance.
"Shawnee Mission officials give lip service to student achievement with laudatory-sounding terms like 'guaranteed and viable curriculum,' but they won't speak directly and honestly about achievement levels.  Parents cannot go to the district website and see state assessment results because the district doesn't want anyone to know, for example, that more high school students are below grade level in math than are proficient.  You can test it yourself.  Ask the superintendent or a board member what percentage of high school students are below grade level and proficient in math on the state assessment.  The correct answers are 39% below grade level and 29% proficient, and if they put that in writing, I will personally apologize to them for questioning their honesty."