Kanas Governor Laura Kelly yesterday extended her statewide lockdown order through May 3, even though many counties have decidedly downward trends in new daily COVID cases.
Of the state's 105 counties, 42 have no cases at all.  And of the 63 counties with reported COVID cases, 29 of them reported no new cases so far this week, 13 counties reported just one new case, and there were just two new cases in four other counties.
The first four days of this week have seen no new cases in 71 counties (42 with no cases plus 29 counties with cases last week but no more reported this week).
This begs a number of questions.
Why is Governor Kelly extending the statewide lockdown?
Why not allow local officials to make those decisions on a county-by-county basis, and let Kansans start going back to work?
County-level data
The county-based data from the Kansas Department of Health and Environment shows there are 1,588 cases in Kansas as of April 16, with the largest number, 379, in Wyandotte County.   The increase in new cases today was just 4.4%, down from 8.8% a week ago.  The 3-day moving average trendline in the chart shows a pretty consistent decline.
Johnson County has the next highest concentration, with 343 cases in total but just 9 new cases today.  That's a 2.7% increase over the previous day, and the second-lowest increase recorded in Johnson County.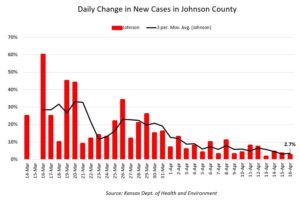 Sedgwick County has 217 reported cases as of today, which is a 3.8% increase over yesterday's total.  The daily increase has been below 5% since April 12.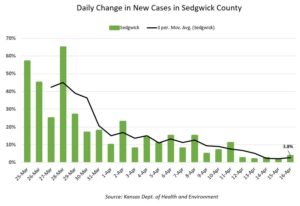 Leavenworth County had an out-of-pattern increase in new cases today of 22.6%, going from 93 to 114 COVID cases.  A 'tent pole' spike of 37% occurred on April 8 but daily increases have been much lower since then and in the week prior.
Shawnee County has the fifth-highest concentration, with 82 total cases and just a 1.2% increase in new cases today.  The three-point moving average of daily increases has been steadily declining since April 11.
Ford County appears to be a hot spot in Kansas, going from just five cases on April 11 to 51 cases as of today.  But the daily increase in new cases in the rest of Kansas (excluding Ford, Wyandotte, Johnson, Sedgwick, Leavenworth, and Shawnee counties) has been 5% or less since April 8.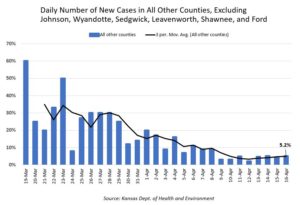 Click here for a list of all Kansas counties, showing the number of new cases reported each day beginning April 12.
The data in the charts and tables in this story were prepared by Kansas Policy Institute (which owns the Sentinel)