Data provided by the Kansas Department of Health and Environment through June 1 shows the COVID average daily increase dropped to an all-time low of 1.2%.  The previous record low of 1.4% was set a week ago.
This also marks the fifth consecutive week that the 7-day moving average has declined.  Most of the state began a slow reopening on May 4, when the 7-day average increase was 6.8%;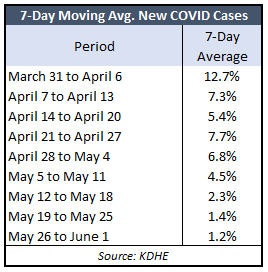 some officials feared that reopening would cause a spike in new cases but that hasn't happened over the last four weeks.
There are still 17 counties with no reported or suspected COVID cases, and another 20 counties have three or fewer.
Just one-third of one percent of the Kansas population has or is suspected to be infected with COVID-19.  The highest infection rates (between 4% and 5%) are the southwest Kansas meatpacking triangle of Finney, Ford, and Seward counties.  But fortunately, the meatpacking clusters tracked by KDHE have very low mortality rates.  With just nine deaths among more than 2,700 cases, the mortality rate is just 0.3%.
KDHE has identified 128 clusters that account for 51% of the cases and 67% of all the deaths in Kansas. 
Long-term care facilities have the highest mortality rate at 15.4%, representing 111 of the state's 2017 deaths.
Three correctional facility clusters account for almost 1,000 cases – 10% of the state's total – but with just six deaths, the mortality rate is 0.6%.
There are 72 deaths and 4,873 cases reported outside of the clusters, for a mortality rate of 1.5%.
Last week, KDHE Secretary Dr. Lee Norman said he thinks it's "dangerous" to not have statewide restrictions still in place, but five of the six states with a lower mortality rate than Kansas weren't shut down by their governors.  The eight states not locked down also suffered much less job loss in April.