The World Health Organization yesterday said "children should not be vaccinated for the moment" because there is insufficient evidence to make recommendations.  But the Kansas Department of Health and Governor Laura Kelly won't say whether they will stop their push to vaccinate kids.
Both the Kansas Department of Health and Environment and the Centers for Disease Control are recommending everyone age 12 and older be vaccinated, however that runs directly contrary to the latest guidance from the World Health Organization.
WHO now says that the Pfizer — and only the Pfizer — vaccine is safe for ages 12 and up, but specifically says that children between the ages of 12 and 15 should not be vaccinated unless they have other conditions making them at high risk.
"WHO's Strategic Advisory Group of Experts (SAGE) has concluded that the Pfizer/BionTech vaccine is suitable for use by people aged 12 years and above. Children aged between 12 and 15 who are at high risk may be offered this vaccine alongside other priority groups for vaccination. Vaccine trials for children are ongoing and WHO will update its recommendations when the evidence or epidemiological situation warrants a change in policy. (all emphasis added.)"
(The screengrab below from Monday, June 21 at 9:58 PM says "Children should not be vaccinated; WHO has since revised the page by deleting that heading and adding the above quote about children between the ages of 12 and 15.)
Chain pharmacies such as Dillons — owned by Kroger — are sending out text messages to customers urging them to come in and get their children age 12 and up vaccinated.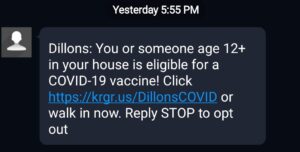 However, the text — at least in the case of the Dillons pharmacy — does not specify which vaccine is available. The Pfizer vaccine is not available in many smaller communities because it requires storage in "ultracold" freezers at temperatures of -112 degrees Fahrenheit to -76 degrees F, according to KDHE.
Children at lower risk
Like WHO, the American Academy of Pediatrics says young children tend to have very mild cases if they contract COVID
AAP states "… the available data indicate that COVID-19-associated hospitalization and death is uncommon in children," and "At this time, it still appears that severe illness due to COVID-19 is rare among children."
In fact, last week, children account for only 14.2 percent of all cases nationwide, are just 1.4 to 3.3 percent of all hospitalizations, were between zero and .22 percent of all fatalities, and zero to .03 percent of all child COVID-19 cases resulted in death. 
And that is among states reporting — not all have — but AAP also notes that many states use different definitions of "child," for instance Alabama last year defined a "child" as newborn to 24.
On April 19, AAP also noted that — since the beginning of the pandemic, children account for just six-hundredths of a percent of all fatalities and only one-hundredth of a percent of pediatric COVID cases result in fatalities, and just eight-tenths of one percent of pediatric cases required hospitalization. 
To put that in perspective, according to the New York Times live COVID tracker, approximately 602,000 deaths are attributed to COVID-19, which would mean just over 360 deaths — likely the result of serious underlying conditions that made the child high-risk — and whom WHO stated should be vaccinated.
Moreover, a year ago National Public Radio reported that in an "unscientific survey of child care centers, Brown University economist Emily Oster found that, as of Tuesday afternoon, among 916 centers serving more than 20,000 children, just over 1% of staff and 0.16% of children were confirmed infected with the coronavirus."