While Kansas parents wait to see if the Kansas Legislature and Governor Laura Kelly will give them the opportunity to decide where their children go to school, Florida is expanding an already robust choice program to every parent in the state.
Just this week Florida Governor Ron DeSantis signed the bill.
"The State of Florida is No. 1 when it comes to education freedom and education choice. And today's bill signing cements us in that No. 1 position," The Tampa Bay Times reported DeSantis said during a ceremony held at a Miami private school.
According to the Times, DeSantis noted that 1.3 million children in Florida use some sort of choice, whether vouchers, charter schools or district options such as magnets. "That empowers parents … to find the best school for their child," the governor said.
The Florida bill eliminates financial eligibility restrictions and the current enrollment cap. Florida already has more students using their choice program than the entire K-12 enrollment of 35 other states.
Iowa and Utah passed bills early this year — both of which were signed into law — followed by Arkansas earlier this month.
Fate of Kansas bill uncertain
The Kansas House of Representatives passed the "Sunflower Education Equity Act" in SB 83 in mid-March, but it has yet to be ratified in the Senate.
House Substitute for Senate Bill 83, which — because the House passed as a substitute bill — will only require the "concurrence" of the Senate, rather than being returned to committee, provides an additional $72 million in special education funding, addresses teacher shortages and retention challenges with teacher pay increases, gives smaller schools flexibility and time to adjust to any attendance fluctuations and — most importantly — would provide Education Savings Accounts to parents across the state.
SB 83 passed by a vote of 64-61, with a lone Democrat, Rep. Marvin Robinson from Kansas City, Kansas, voting in favor of school choice. 
This marks the first time that a Democrat has voted for a broad school choice bill in Kansas, and it took real courage to break ranks and vote to help students.  Over half of the students in USD 500 Kansas City cannot read or do math at grade level, and less than 15% are proficient.Democrat Governor Laura Kelly is widely expected to veto the bill, however, despite the inclusion of teacher pay increases and $72 million in additional special education funding.
A Sentinel investigation earlier this year found that Governor Kelly sent her children to a private school in Topeka, but she doesn't want poor kids in Kansas to have the same opportunity.
Dave Trabert, CEO of Kansas Policy Institute, which owns the Sentinel, said at the time that the margin of victory would have been much larger if some legislators had not feared angering education officials and the teacher unions.
"A number of Republicans and Democrats privately said they understood that many students will not get a good education without choice, but they wouldn't vote for it because they are more concerned about their re-election prospects.  It's easy to find an excuse to vote 'no' because of a minor provision in the bill, but it's just that – an excuse.   These legislators know that by opposing SB 83, they are condemning tens of thousands of students to a lifetime of underachievement."
Unions, opponents say choice would hurt achievement, but facts say something else
It is a matter of faith among the teachers unions and other choice opponents that student achievement — particularly among marginalized students — already abysmally low in Kansas, would suffer if school choice were implemented.
The data shows the opposite to be true, however.  Since Florida implented choice, transparency, and accountability reforms, reading proficiency for low-income students across the state have improved dramatically.  They went from nearly the worst to the best in the nation for 4th-Grade and ninth-best in the 8th-Grade.  Florida's low-income students now have better proficiency levels than Kansas, where proficiency declined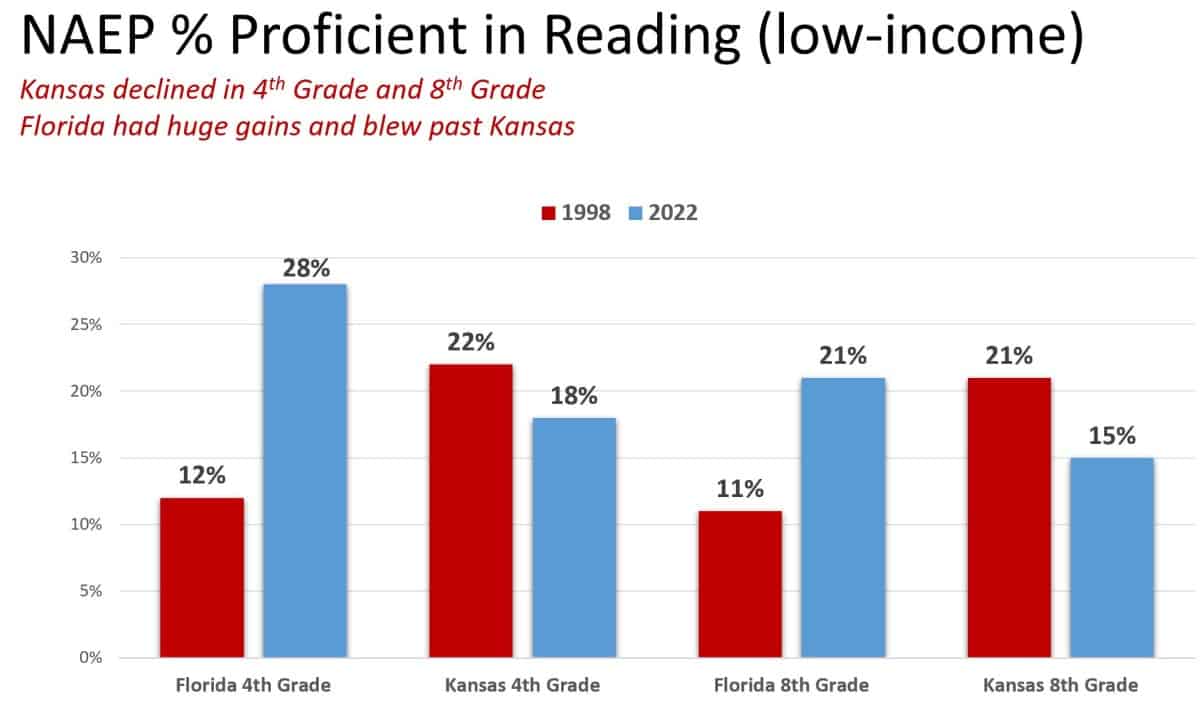 A recent study out of the Fordham Institute also found academic gains related to parents having more choice.
The Fordham study, authored by Ohio State University professor Dr. Stéphane Lavertu, examined Ohio's performance-based and income-based EdChoice programs.
The Executive Summary says, "Overall, the analysis provides solid evidence that the performance-based EdChoice program led to racial integration, had no adverse effects on revenues per pupil, and increased student achievement in public school districts. It also reveals no credible evidence that the income-based EdChoice expansion harmed districts in terms of segregation, revenues, or student achievement." 
Not only did public schools not lose money on a per-student basis, but academic achievement was higher across the board, and the program actually reduced racial and ethnic segregation by approximately 10 to 15 percent than it would have been had districts not been exposed to the program.
Another common refrain among choice opponents is that choice will simply not work in rural areas, because there are a dearth of private schools.
Again, however, reality doesn't seem to comport with opponents' arguments.
A new study from Step Up for Students of 30 rural Florida counties confirms that school choice enrollment is growing in rural Florida and that more options are available.
Its findings include:
In 2021-22, 16.7 percent of students in Florida's 30 rural counties attended something other than a district school, whether a private school, charter school or home education. That's up from 10.6 percent a decade prior.

The number of private school choice scholarships increased from 1,706 to 6,992 over the last decade.

The number of private schools in Florida's rural counties jumped from 69 to 120.  Even in the most sparsely populated counties, choice is enabling supply to meet demand.
And even though private school enrollment share in Florida's rural counties rose from 4.5% to 6.9%, total enrollment in rural district schools grew by 3.3%.
The study found that — not only has school choice not significantly impacted public schools — it has actually improved outcomes.