Student achievement steadily declined in Gardner-Edgerton under Superintendent Pam Stranathan.  The district consciously misled legislators, Stranathan asked county commissioners to give her board members political cover on mask mandates, and the district repeatedly attempted to prevent access to public information.
Voters lost hope that she and the board would act in students' best interests and in November, booted two incumbents out of office and replaced them with candidates who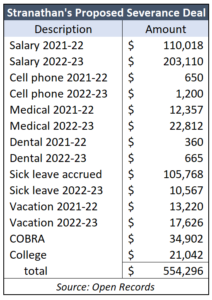 had made clear they intended to implement student-focused transformation. Rather than work with the new board, Stranathan sought a sweetheart departure deal from the outgoing board over more than $554,000.  
A separation agreement, dated December 3, 2021, and approved at a Dec. 7 meeting — the last before the new board takes office — outlines a total payout of $425,000, with half paid on December 8 and the balance on January 1.  That includes $34,902 for 18 months of COBRA health insurance coverage but no other details are included in the separation agreement.
The breakdown of the proposal reflects an attempt by Stranathan to be paid twice for vacation and sick leave.  She wanted the full amount of her salary through the end of her contract and she also wanted to be paid for future vacation and sick leave.  If she worked next year, she would not be paid extra when she was sick or on vacation.  Such disregard for taxpayer money is also part of a pattern.
The sitting board was — according to the Kansas Reflector — admonished not to make such a move while effectively a lame-duck body.
"The citizens made clear that they don't have faith in the current leadership," Member-elect Greg Chapman told the Reflector. "Now is the time for this community to heal and not be divided, not seek revenge, not seek selfish ambitions, but work together to make this district even better than the gem it once was."
A history of obstruction under Stranathan
The draft version of the agreement, obtained with some difficulty by Attorney Ryan Kriegshauser, was provided on Dec. 20 in partial response to an Open Records request on Dec. 20 — some two weeks after the board voted unanimously to approve the separation agreement.
It's far from the first fight Kriegshauser has had with the district over open records. In an email exchange obtained by the Sentinel, Curtis Tideman of Lathrop GPM — the district's attorney — defended $278.60 in charges for providing electronic copies of some 90 emails produced under a records request.  Kreigshauser filed an Open Records complaint with the Kansas Attorney General's office on this issue.
Tideman was dismissive of Kriegshauser's concerns about costs.
When Kriegshauser objected to a 12 cents per-page charge for converting emails to pdfs (something that can be done, with most mail programs with a click), Tideman simply made the assertion that the fee was "reasonable" without any substantiation, adding: "Again, if you are claiming that 12 cents is not reasonable and have some evidence suggesting that is the case, I would certainly consider it. However, you have not supported your claim with either a legal citation or any evidence supporting your claim of unreasonableness."
Kansas law does not put the burden of proof as to whether a charge is reasonable or not upon the person requesting the records, but rather on the agency which is the custodian of the records.  Tideman is well aware of that, but The Sentinel and our owner, Kansas Policy Institute, have had similar stalling and obfuscation experience with Tideman and the Gardner-Edgerton district.a
In fact, Kansas Policy Institute is still waiting for USD 231 to provide Stranathan's severance agreement that was requested on December 7.
As a letter to the editor in the Gardener News shows, trouble with obtaining records from the district goes back more than a decade, with steadily increasing charges.
Moreover, a Sept. 3 editorial in the News notes they had trouble getting a copy of Stranathan's contract extension — with the district refusing to email a six-page document until it was paid 72 cents.
"We wish we could say it's not usually like this dealing with USD 231, but it is," the editorial reads. "Don't blame the employees, it's the administration and BOE that create the problem. By causing a hassle, and keeping secrets they retain control.
"It's not unusual to have to threaten a lawsuit to get KORA requests answered. USD 231 pays an attorney to stall KORA requests, just to be obtuse."
Kansas Policy Institute CEO Dave Trabert recounts several such issues.
"Our request for an Excel-compatible listing of the district's 2019 payroll wasn't fulfilled until our complaint with the Johnson County Attorney compelled them. to do so.  They said we had to come to their office and would only provide paper copies of the report, even though the law doesn't allow them to impose either condition.
"Most recently, we requested copies of the building needs assessment reports that state law requires of school boards as part of the budget process.  We are pretty certain that the district didn't perform the legally-required assessments but Tideman carefully avoided saying whether they had done so.  He wrote, 'USD 231 has no documents responsive to this request.  Your request seems to assume that there is a legal requirement for a specific written form to be prepared and retained by USD 231.  If so, I disagree with that assumption.  There is no legal requirement for such a specific written form.'
Kriegshauser noted that the voters in the Johnson County district have made their opinion very clear on this sort of obstructionism.
"The citizens in USD 231 spoke clearly in the election last month that the district's lack of transparency and disregard for parents will not be tolerated," he said in an email. "The incoming school board should look closely at USD 231's open government policies to increase transparency and create procedures that prohibit the kind of "stone-walling" and "hoop-jumping" that has unfortunately become standard practice at USD 231."
Persistently low student achievement
District officials also have a history of not being honest about student achievement.  School Board member Brandon Parks, for example, was caught making false statements about state standards to make it appear that achievement was much higher.
According to the Kansas Department of Education's 2021 assessment results, half of the district's high school students are below grade level in math and only 18% are on track for college and career.  A third of high school students are below grade level in English language arts and only a quarter are on track.
Trabert says voters have made it clear that they demand better performance and honesty from the school board and the administration.
"Students and parents deserve much better.  Hopefully, they will get that from the new board and whoever replaces Stranathan."