A report on education spending and student achievement covering the last three decades in Kansas shows that many students have been academically left behind despite large, inflation-adjusted funding hikes.  The study also shows that school districts' spending decisions include a decline in inflation-adjusted teacher pay.
The study by Dr. Ben Scafidi, professor of economics and director of the Education Economics Center at Kennesaw State University in Georgia, is the latest to suggest that Kansas taxpayers have not received sufficient "bang for their buck" for their K-12 investment. Scafidi offers school choice initiatives in Florida and Arizona as models for Kansas to follow.
Highlights in the Scafidi Report:
Between 2003 and 2020, total inflation-adjusted total spending per student in Kansas public schools increased from $11,279 to $14,894, an increase that exceeded the national average and the increases in all neighboring states during this time period.
The increase in nominal (not adjusted for inflation) per-student spending between 2003 and 2019 of 67.9% is above the national average and much higher than neighboring states.
While "current" inflation-adjusted spending per pupil (which excludes capital and debt service expenditures) increased by 25 percent between 2003 and 2020, average teacher pay fell by almost 1 percent, adjusted for inflation. Much of the increase in spending went to school district administration. While the number of Kansas public school students increased by 6 percent, the number of district administrators increased by 23 percent, the number of teachers by 12 percent, and the number of all other public school staff increased by 15 percent.
The large increase in spending was not associated with gains in academic achievement on the National Assessment of Educational Progress (NAEP). NAEP is administered by the U.S. Department of Education every two years and is considered the "gold standard" by KSDE. While national averages in math and reading increased during this period, Kansas average scores dropped, now to a level that is below the national average.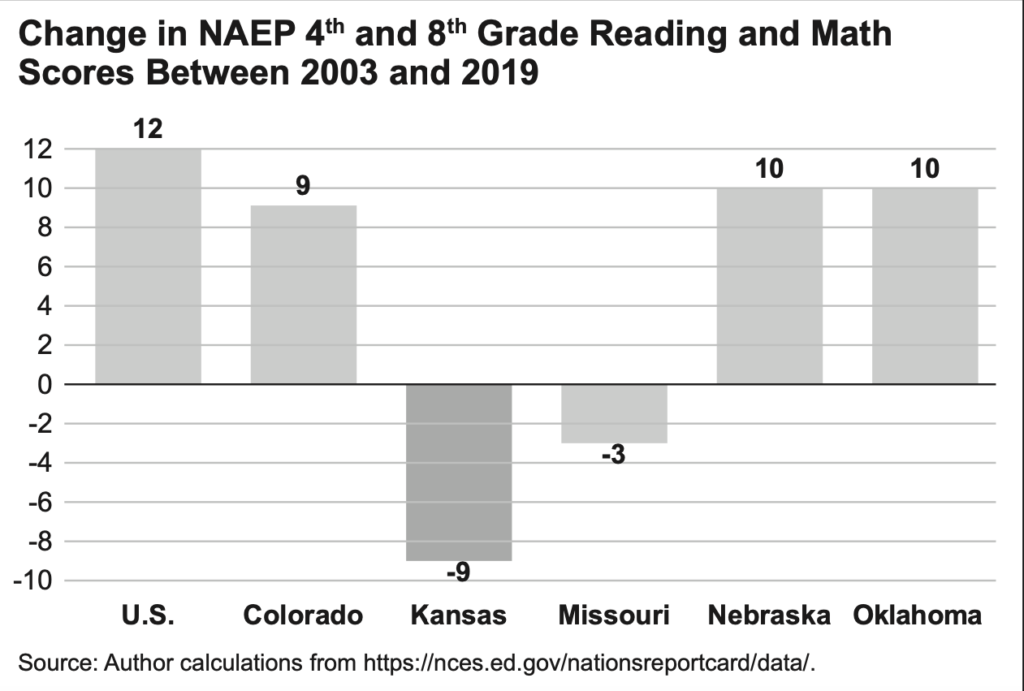 While Kansas scores dropped, two states that have embraced school choice, Arizona and Florida, witnessed sizable gains.
In his conclusion, Dr. Scafidi advocates for education funding that follows the students:
"A system of student-based funding sometimes referred to as "backpack" funding, should be the ultimate goal for the Kansas K-12 education system. Under student-based funding, the control of all taxpayer funds devoted to the education of children would be given to families to allow them to direct those funds to the schools and educational settings they believe are best for their children. Children have different interests and different strengths, so schools and educational settings should be allowed to be different in order to best serve the wide diversity of interests and talents of children who live in Kansas."