Following the second death this year of a child in the custody of the Department for Children and Families, Johnson County Senator Molly Baumgardner (R-Louisburg) has called on Governor Kelly to fire DCF Secretary Laura Howard.
The unidentified 13-year-old boy, a resident of Successful Dreams, a Parsons residential treatment program, died October 29 in a two-vehicle crash after running away from the facility and stealing a truck from a local auto dealership.
His death follows the April 15 death of Ace Scott, a 15-year-old transgender youth who ran away from Cornerstones of Care while awaiting placement. He was found dead in an abandoned lot near a residential area in Kansas City, Kansas.
The Office of Inspector General (OIG) with the U. S. Department of Health and Human Services recently issued an alarming report on missing foster care children nationwide, and Kansas is among the states with the highest percentage of runaways.
The OIG audit covered the period from September 29, 2020, to July 27, 2021. The following map shows the total number of runaways during the audit period: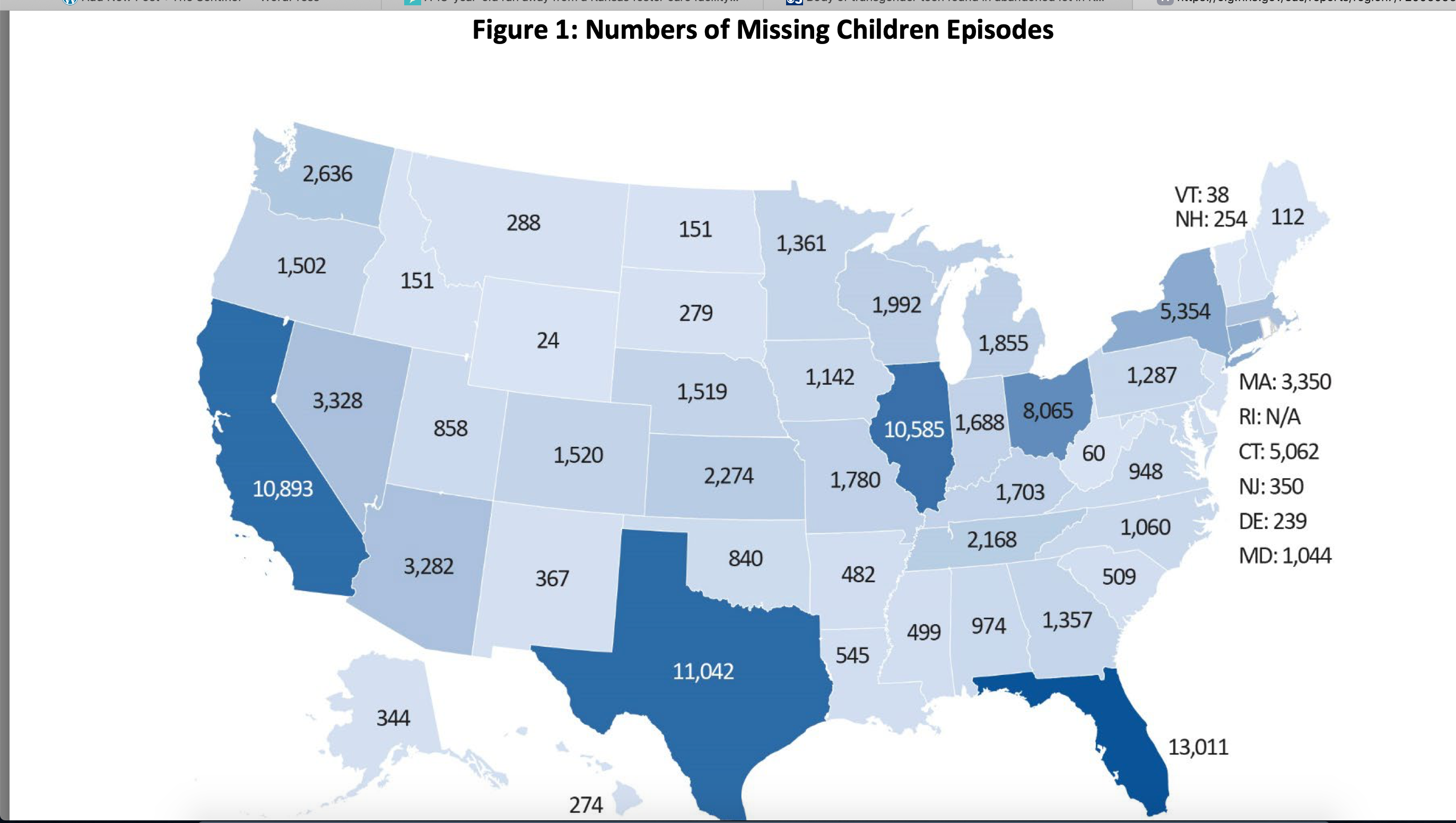 Kansas had some 500 more missing foster care children than Missouri, a state twice as large.
This map shows the issue as a percentage of children in custody who go missing, and Kansas is among those with the highest percentage:
Currently, there are 61 missing children who have escaped DCF custody.
Sen. Baumgardner, a leader in foster care issues in Topeka, claims agency incompetence in calling for Secretary Howard's removal:
"I call on Governor Kelly to remove Secretary Laura Howard from her responsibilities as Secretary of the Department of Children and Families. The lives of our most vulnerable children, those that become the responsibility of the State of Kansas through our legal system, deserve a watchful eye that assures care from trauma and access to support services while ensuring an appropriate level of transparency and accountability. This is not happening, and the results are tragic and unacceptable.
"… breaking news reports convey that a young teen was lost last week while under the watch of DCF. The 13-year-old Kansas boy has died. Just six months ago, another young teen was lost by contractor Cornerstones of Care. He ran while he was staying in their office – not a foster home – and died in a vacant lot. Our children deserve better!
"Just last week, the Joint Committee on Child Welfare Oversight met in an unprecedented executive session for more than nine hours to do a deep dive on the concerns involving Secretary Howard, contractor Cornerstones of Care, and four foster siblings facing a forced adoption. The systematic failures within the department and this case became clear as the day progressed. Factual communication and the best interest of foster children was being ignored by the agency and contractor. What's more, the siblings are knowingly experiencing new trauma and are being subjected to serious safety violations at the hands of DCF and Cornerstone employees.
"In short, it is irresponsible to turn a blind eye on the growing failings under Secretary Howard. The number of foster families statewide has decreased by 487 foster homes in the last two years. Mental and behavioral health evaluations were only provided 34% of the time for foster children this last year. Of the 14 measured outcomes that DCF and its contractors were to achieve to comply with a class action lawsuit, only five were met. DCF was to stop the practice of night-to-night placement last year, but there were 1,501 night-to-night placements that involved 801 children. In addition, ALL foster care contractors are operating under undisclosed Performance Improvement Plans (PIPs) and Corrective Action Plans (CAPs) because of their deficiencies while receiving full funding.
"With more than 6,200 Kansas children in foster care and 61 of them are missing today, it is time for the lack of accountability to end and for the governor to remove Secretary Howard immediately."