(Editor's note – this article has been updated with a revised calculation of virtual enrollment; the original article showed a 22,000 total enrollment decline.  Some of the district enrollment changes are also updated.)
Data from the Kansas Department of Education show a loss of more than 12,000 students this year, but school districts still added 46 more managers while reducing total employment by 617 positions. Managers include superintendents, assistant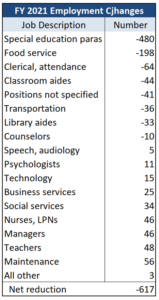 superintendents, principals, assistant principals, directors, instruction coordinators, and curriculum specialists.
Special education paras took the biggest hit, down 480 positions, and there are also 44 fewer classroom aides this year.
Multiple districts choosing to not allow in-person learning this year probably account for so many paras and aides being eliminated, but that also underscores school boards' disregard for improving student achievement.
Total employment this year is 71,845.  Other job categories that were reduced include food service workers (198), clerical and attendance service employees (64), transportation workers (36), library positions (33), and counselors (10).
Some employment categories increased, however, including maintenance workers (56), teachers (48), nurses and LPNs (46), social services (34), and business services (25).
And while employment declined overall, some districts added jobs, including 109 districts that lost students.
Three Johnson County districts lost students but added staff, including Shawnee Mission (lost 1,253 students, added six employees), Gardner-Edgerton (lost 269 students, added five employees), and De Soto (lost 301 students, added six employees).
Andover, in Butler County, lost 83 students but their personnel reports reflect eight more employees.
Garden City, in Finney County, lost 131 students but hired 20 more employees.  Auburn-Washburn in Shawnee County and Maize in Sedgwick County also had significant enrollment declines (305 and 98, respectively) but added staff (4 and 23, respectively).
The state's largest district, Wichita, lost 1,867 students and eliminated 82 positions.
Rep. Kristey Williams, (R) – Augusta, who chairs the House K-12 Budget Committee, is concerned that districts' hiring decisions aren't in students' best interests.
"As many Kansas students continue to struggle through the pandemic, with some districts remaining remote for over one year, it's a challenge to understand some district choices and how those choices are impacting students academically and social-emotionally."
Employment and enrollment comparisons for all school districts are available at KansasOpenGov.org.  Enrollment numbers come from the 2021 Legal Max file prepared by the Kansas Department of Education and employment data is in the KSDE Data Central database.
5% more students, 33% more staff since 1993
KSDE employment and enrollment records show an 8% increase in enrollment since 1993 but school district employment jumped 33%, from a little over 54,000 employees to almost 72,000.
Classroom teachers increased by 17%, there are 41% more special education teachers and reading specialists, there are 42% more managers, and all other staff increased by 49%.
The student-teacher ratio dropped from 16.4 students per classroom teacher in 1993 to 15.1 this year.  Class sizes, however, have reportedly increased considerably.  Class sizes increasing when the student-teacher ratio is falling is indicative of a management issue rather than a funding issue.