A standing-room-only audience crowded into the Prairie Village City Council chambers and an adjoining multi-purpose room to watch council members debate a controversial residential rezoning plan.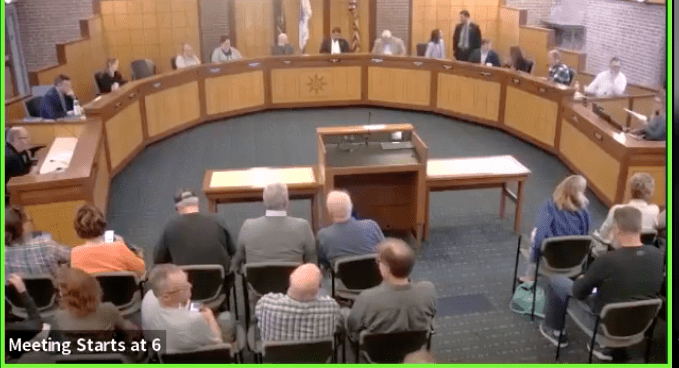 The meeting was labeled a "work session". There was no public comment, but the overflow crowd indicated the community's interest in the proposal to update zoning regulations to increase the stock of more affordable housing in the city.
Mayor Eric Mikkelson suggested a change in zoning regulations was needed:
"We are losing attainable housing for middle-class families. Nurses, police officers, and teachers are being priced out of the housing market."
Members and staff discussed six topics related to Housing Policy and took a vote at the end to determine their focus in the coming months:
A Housing Study patterned after the Johnson County model from 2021
Accessory Dwelling Units are defined as living quarters detached from a single-family home; Accessory Living Quarters are defined as attached to or included within a single-family dwelling.
Neighborhood Design Guidelines, last updated in the city in 2019. Regulation of Tear-Downs and Re-Builds were discussed.
Building Permit Fees and Incentives were upgraded last year. The discussion focused on designing a fee structure that prioritized certain types of building permits; multi-family housing, for instance.
Lot Sizes. Current R-1 Residential has a width of 180' and a depth of 125'. R-1B is 60' x 100'. The debate centered on the need for smaller lot sizes and where they should go.
Short-Term Rentals, such as Airbnbs. Considerable opposition to Airbnb among members, citing lesser sales taxes and no transient guest taxes for the rentals that put hotels at a competitive disadvantage and aesthetic issues; loud parties, trash, parking, and neighborhood traffic issues.
Members voted to move forward focusing on Neighborhood Design Guidelines and revisit regulations on Short-Term Rentals.
Dan Schoepf with PV United, a group opposing the rezoning plan, is optimistic following the meeting:
"We're encouraged that the topic of rezoning was given the attention it deserves.  Rarely do issues directly affect every resident of a city.  The fact remains that there are still many unanswered questions.  City leaders have been challenged to listen to the people they represent.  However, listening is the first step. Responding is the second step.  The primary frustration has been the lack of acknowledgment and response.  Last night seemed to be a step in the right direction to listen and respond."
Homeowner Lori Sharp was encouraged by the interest of the community in the issue:
"We were so pleased with the engagement of the PV residents last night and consistently over the past nine months. Besides being so proud of our civic-minded citizens my other comment would be:  When will this unnecessary push for density end and the will of the electorate be followed?"
Fellow homeowners Jan and Todd Bleakley struck a more cautious tone:
"We generally believe that rezoning has not been taken off the table, just delayed. The only action taken was directing City staff to review design guidelines for R-1b and short-term rentals.
 "Several council members did ask some of the questions we have been asking all along, such as what is actually legal and what is the impact of increased density on city services and infrastructure. However, several others still appear to be pushing for ADUs 'by right ', smaller lot sizes, and higher density development in certain parts of the city.
The Prairie Village City Council meets on the first and third Mondays of the month.