Olathe USD 233 Board Member Brian Connell was censured and removed from his committee assignments by fellow members over alleged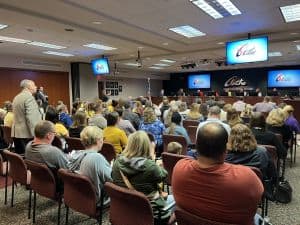 disruptive behavior and outbursts during meetings.
Board President Shannon Wickliffe presented his censure motion at a special afternoon meeting of the board amid considerable security and before a standing-room-only crowd made up largely of Connell supporters. He cited issues with Connell's behavior during meetings and other members' concerns about their personal safety.  Wickliffe's motion also calls on district staff "to enforce any and all security measures they see fit in alignment with security protocols related to any patron."
Connell, whose prior issues with the board concerned what he viewed as a lack of transparency on spending and on open meetings violations, spoke in his defense: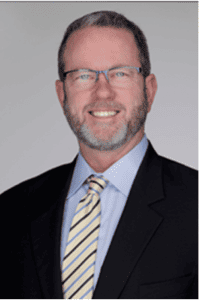 "I was elected by a wide margin to replace the establishment; replace an incumbent vice president of the board. To change things, to be the voice, to be the eyes and ears of the community that put me here." So I have a right to be here. I have a right to my own opinion, and each of you do as well. I have a right to my own feelings and my emotions."
He received prolonged applause from the audience when he finished his statement.
Board Member Julie Steele suggested Connell's resignation but focused on the concerns about his demeanor in her remarks:
"Our goal today is not to silence Mr. Connell or prevent him from being able to use his voice or his vote. Our goal is to maintain safety, regain decorum and respect, and provide assurance.  There are consequences for the behavior exhibited by Mr. Connell on multiple occasions."
The censure motion passed 5-2, with Connell and Robert Kuhn voting against it.
Connell, whose term expires in 2025, refused the call to resign and criticized the board's action:
"It was contrived, coordinated, and lacking honesty and balance.
With exams, sports playoffs and other serious issues our kids, teachers and staff have going on this week, this was far from top priority. This shows what they think is more important than the kids and staff.   Really, they could have done this next week and got the same effect.
"Leadership matters."
A link to the meeting is not available here, as a board representative told the Sentinel that special meetings like this are not recorded.   More information on the underlying transparency and conflict of interest issues will be explored in Sentinel articles coming shortly.