Questions surrounding where robust debate stops and libel begins are being asked in an Oklahoma lawsuit. Constitutional and legal issues being raised aren't new as governments react to the COVID pandemic. But the recent lawsuit filed in Oklahoma brings these legal challenges into a new realm as one citizen is suing a private entity for comments made about COVID.
The Oklahoma Council of Public Affairs (OCPA) is facing a lawsuit alleging they spread false statements about an Oklahoma businessman. Paycom CEO Chad Richison is suing OCPA, a nonprofit that advances principles of free enterprise and limited government, for their coverage of a letter Richison sent to Gov. Kevin Stitt on March 22 about COVID-19 and the state's response.
According to The Center Square, the lawsuit stems from a letter sent by Richison in his capacity as Paycom CEO to Republican Oklahoma Gov. Kevin Stitt on March 22, in which Richison laid out a plan to combat the COVID-19 pandemic in the state.
"We can't afford not to act any longer, Governor," Richison wrote in his letter. "In the interest of winning the battle against this virus and saving the lives of our fellow Oklahomans, I offer the following actions in response to your call for ideas."
Among his recommendations, Richison called for a ban on non-essential travel at the state's airports and for grocery stores to offer "drive-thru pick up or delivery."
Richison also called on the governor to "temporarily suspend personal-touch services in order to adhere to social distancing, which includes, but is not limited to, hair salons, nail salons, spas and massage parlors."
On March 23, Ray Carter, director of the Center for Independent Journalism at the OCPA, mentioned Richison's letter in a post about Stitt's response to COVID-19.
"Some individuals have called for Stitt to order most businesses to close and have the government control how others operate, including grocery stores. Chad Richison, CEO of Paycom, is among those who have advocated such actions," Carter wrote.
In response, Paycom filed a lawsuit in Oklahoma County District Court alleging that OCPA falsely stated Richison's position on business closures.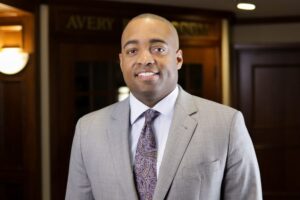 OCPA President Jonathan Small denies the claim, and his comments in The Center Square piece indicate they've had other policy disputes with Richison over the years.
"OCPA and Chad Richison have engaged in public-policy debates. Sometimes our views align, sometimes they do not. Today, Chad Richison continues to exercise his First Amendment rights; it's a shame he does not respect the First Amendment rights of others," Small said.
"In recent months, Richison, a billionaire, advocated for closure of many businesses while OCPA argued for preserving citizens' ability to get the medical care they need and earn a living to provide for their families, especially since society's most vulnerable are hardest hit by these business closures," Small said.
"If Paycom has lost clients, it is not because OCPA truthfully reported on Richison's public support and public advocacy for business shutdowns (including through a direct link to Richison's public letter), but because of the economic consequences of governments following policies similar to those Richison endorsed," he said.
Paycom's lawsuit alleges they've lost clients as a result of OCPA's reporting of Richison's public writings.
Small told The Sentinel in an email that OCPA is being represented by Andy Lester and AJ Ferate of Spencer Fane and James Bopp of the Bopp Law Firm.  Small says they plan to file a motion to dismiss shortly.
OCPA, like The Sentinel's parent company, Kansas Policy Institute, is a member of State Policy Network.  SPN has more than 60 independent members across the nation that promote personal freedom.