Prompted by the announced retirement of two Kansas Supreme Court justices, Senator Ty Masterson is calling for a change in the judicial selection process.
Kansas Supreme Court Justice Lawton Nuss today announced he would retire in December, giving Gov. Laura Kelly a second appointment to the state's highest court. Earlier this month, Supreme Court Justice Lee Johnson announced he would step down in September.
The mandatory retirement age for Kansas Supreme Court Justices is 75. Both are retiring earlier than required. Nuss is 66, and Johnson is 72. Nuss was appointed to the Supreme Court in 2002 and has served as Chief Justice since 2010. Johnson joined the Court in 2007.
Sen. Ty Masterson, an Andover Republican, said the announcements demonstrate that Kelly and her political allies are "clamoring to pack the high court before the Kansas people, through their elected representatives, have a chance to reform the process to include Senate confirmation."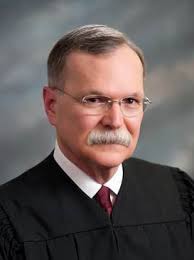 Kansas uses a merit-based nomination process that allows a nine-member commission to select a list of three nominees from which the Governor chooses an appointment. The legislature has no part in the process, unlike the federal judicial selection process, which requires the U.S. Senate to confirm nominees to the U.S. Supreme Court.
"Kansans deserve to have a voice in who sits on the highest court in the state, and that comes through a requirement for Senate confirmation," Masterson said.
He said the federal model is a "time-tested selection process" that put both Clarence Thomas and Ruth Bader Ginsburg on the U.S. Supreme Court.
"This is why the legislature must take this issue up during interims and when we return in January," Masterson said.
On the final day of the 2019 legislative session, Masterson motioned for the Senate to consider a Constitutional amendment to reform Kansas's judicial appointment process to include Senate confirmation. It was solely a procedural vote, but it received 27 votes–the number necessary to put a constitutional question on the ballot.
Lawmakers changed the appointment system for the Kansas Court of Appeals from a merit-based system to a federal model in 2013, allowing the Governor to nominate appellate court judges subject to Senate confirmation. However, Kelly said she would utilize a merit-system to make her first appointment to the Kansas Court of Appeals. She announced she would nominate Jeffry L. Jack to replace Judge Patrick D. McAnany, who had reached the mandatory retirement age. Kelly subsequently asked the Senate to reject Jack's nomination after a series of his profanity-laced, partisan tweets surfaced. Kelly then nominated Sarah Warner to the Court of Appeals, and the Senate confirmed her.